Snipfeed Q&A feature: sell shoutouts easily
Send personalized videos, audio, and text responses with Snipfeed's Q&A feature. Go beyond Q&A's on TikTok and Instagram shoutouts and start earning.
Offer Q&As
Get paid to engage

Send personalized responses
Set up a Q&A box on your Snipfeed page to allow fans to purchase personalized responses from you. Use Q&As for fan shoutouts and reply in your own time.

Manage your time
It's impossible to respond to all comments and messages on social media. Manage your workload and personalized content easily in-app.

Reward loyalty
The ultimate way to thank followers for their dedication to your content is taking the time to respond personally (and earn while you do it)

Offer services
Personalized Q&As are the perfect hybrid between 1:1 calls and shoutouts. Create your responses to serve specific solutions for your followers like audits, coaching, advice, and much more.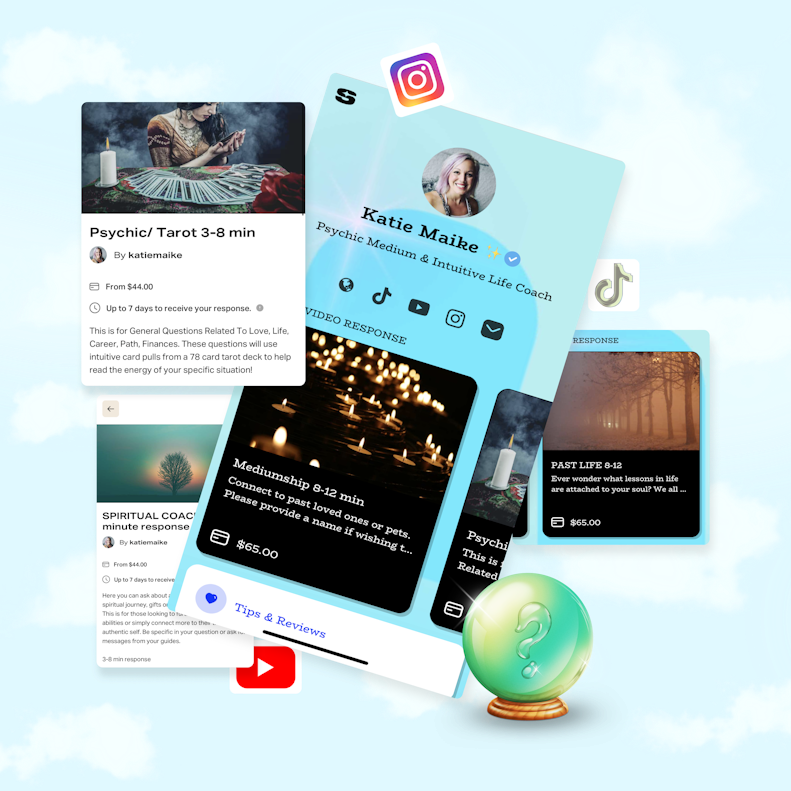 How Katie Maike uses Q&A's to sell life coaching and personal reading services.
TikTok creator, intuitive life coach and psychic medium Katie Maike has curated a collection of personalized video requests on her Snipfeed page using the Q&A feature. Katie offers several types of coaching and readings that differ in length and price so there's something for all her community.
Try it yourself
Other Snipfeed creators sending personalized responses to fans:
Respond to questions in any digital format
Get talking
Send audio responses to answer questions and give personalized shoutouts for dedicated fans
Type your response
Answer questions related to your niche - for example, coaching, advice, tarot reading, and more.
Hit record
Record videos especially for your followers to offer a service, answer questions in depth, or give special shoutouts.
Calculate roughly how much you could earn with our Earnings Calculator
How much could you earn?
Calculate Your Earnings
Book a free demo and walkthrough with one of our team
Book A Demo
Découvrez nos autres fonctionnalités pour vous permettre de monétiser en quelques minutes.