Snipfeed Q&A feature: sell responses easily
Send personalized videos, audio, and text responses with Snipfeed's Q&A feature.
Offer Q&As
Get paid to engage

Send personalized responses
Set up a Q&A box on your Snipfeed page to allow fans to purchase personalized responses from you. Use Q&As for fan shoutouts and reply in your own time.

Manage your time
It's impossible to respond to all comments and messages on social media. Manage your workload and personalized content easily in-app.

Reward loyalty
The ultimate way to thank followers for their dedication to your content is taking the time to respond personally (and earn while you do it)

Offer services
Personalized Q&As are the perfect hybrid between 1:1 calls and shoutouts. Create your responses to serve specific solutions for your followers like audits, coaching, advice, and much more.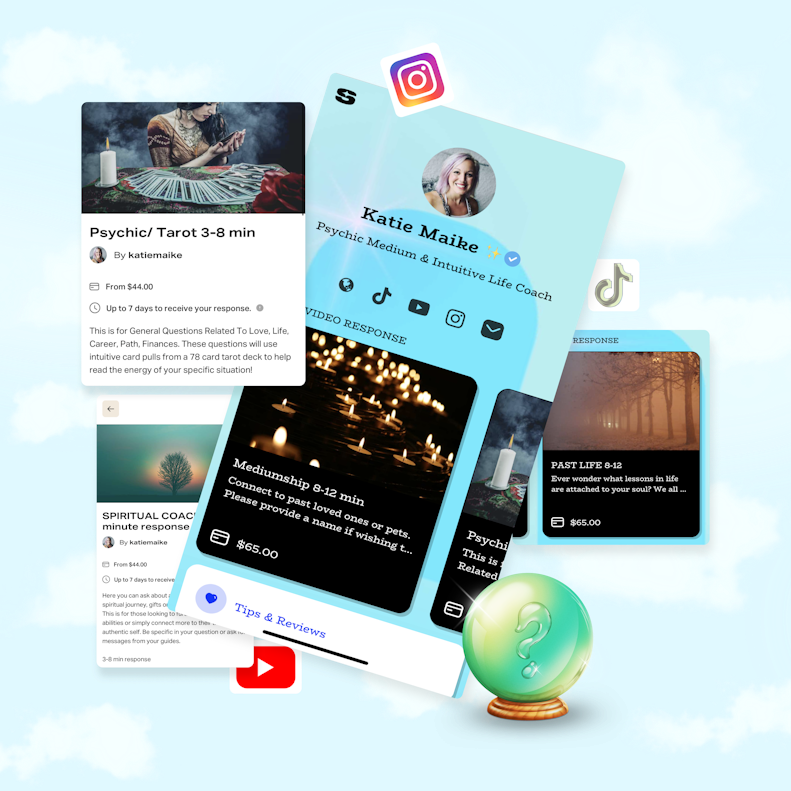 How Katie Maike uses Q&A's to sell life coaching and personal reading services.
TikTok creator, intuitive life coach and psychic medium Katie Maike has curated a collection of personalized video requests on her Snipfeed page using the Q&A feature. Katie offers several types of coaching and readings that differ in length and price so there's something for all her community.
Try it yourself
Other Snipfeed creators sending personalized responses to fans:
Choose your niche and see how Q&As could work for you.
Astrology and Spirituality
Health & Wellness
Tech
Lifestyle
Beauty
Photography
Finance
Education
Animal
Travel
Acting
Social Media
Coaching
Modeling
Sports
Podcast
Fashion
Interior Design
Food
Art
Music
Gaming
Comedy
What are creators saying about the Q&A feature?

Find out how creators rate Snipfeed for the ability to sell personalized responses and shoutouts.
"I was getting a lot of enquiries with people wanting to do one on one coaching with. But I was totally overwhelmed with the notion of creating a website with a user friendly booking system. Snipfeed solved that issue for me. Within a day I could book people in, have them refer to links and even shop my Amazon list. All from one place. Seriously easy to use. So happy I came across it. A total game changer for growing your business."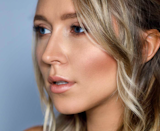 Margarita Nazarenko
@margarita.nazarenko
"I love how customizable Q&A feature is. I can add in custom questions for people to submit info, and as a Pro member, I am able to set up a customized automatic confirmation email, which takes a huge weight off my shoulders, allowing me to give the customer more information on how the reading process will work. I love the way that I can add a personal discount code for my audience, helping me book even more Q&As over time."
Sean
@wateryaquarius
"I can fully run my business as an astrologer through Q&As, due to being able to have numerous reading (Q&A) types available, in any format I desire. I can sell astrological readings directly, and even offer pay later options. My experience with Snipfeed as a whole has been EXEMPLARY... I've loved it since day one. I love how simple and streamlined the service is for me as a business owner AND for my clients."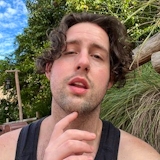 Joshua Pingley
@thatastrologeeguy
Respond to questions in any digital format
Get talking
Send audio responses to answer questions and give personalized shoutouts for dedicated fans
Type your response
Answer questions related to your niche - for example, coaching, advice, tarot reading, and more.
Hit record
Record videos especially for your followers to offer a service, answer questions in depth, or give special shoutouts.
Calculate roughly how much you could earn with our Earnings Calculator
How much could you earn?
Calculate Your Earnings
Book a free demo and walkthrough with one of our team
Book A Demo
Check out our other features to get you monetizing in minutes.