Astrology & Spiritual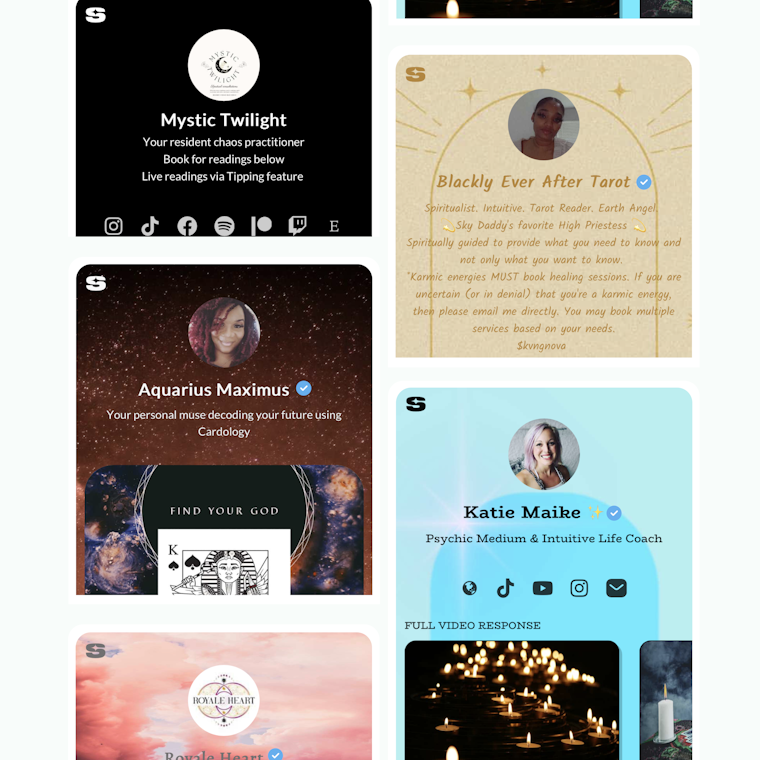 The tool for Astrological and Spiritual Creators to start earning online
Looking for somewhere to start charging for your services? Snipfeed is the most popular all-in-one software for astrology and spiritual creators to make passive income alongside their social content. From 1:1 tarot readings to and group sessions - your monetizing potential is huge.
Try it yourself
Loved by astrology creators
The suite of monetization features makes it easy for you to host online readings, run one on one sessions whenever suits you, and upload exclusive content and digital products to help your community on their journey.

Never miss a reading or a livestream
Access features such as Zapier for automating your workflow, run your consultations and online events via Zoom and Google Meets, and sync your Google calendar to keep your schedule organized.

Design in minutes
Customize your page to match your branding and optimize the discoverability of your page by adding a custom domain. Create a page that's trusted by your community by adding a blue verification check.
Other astrology and spiritual creators on Snipfeed
Top ways to monetize on Snipfeed as an astrologer
See what's working right now for creators in your niche and give it a go yourself. There's tons of creators like you making money passively and finding ways to run their online business via Snipfeed.
Readings with Q&As
Get paid to do personalized readings or answer your followers questions with video, text, or audio responses. Learn more.
1:1 calls
Allow followers to book exclusive time with you for live, personal readings, sessions, coaching calls, and more.
Livestreams
Sell tickets to livestreams to host live group readings, manifestation workshops, community meetups, or masterclasses either virtually or IRL. Find out more here.
Get access to the suite of Snipfeed features