UGC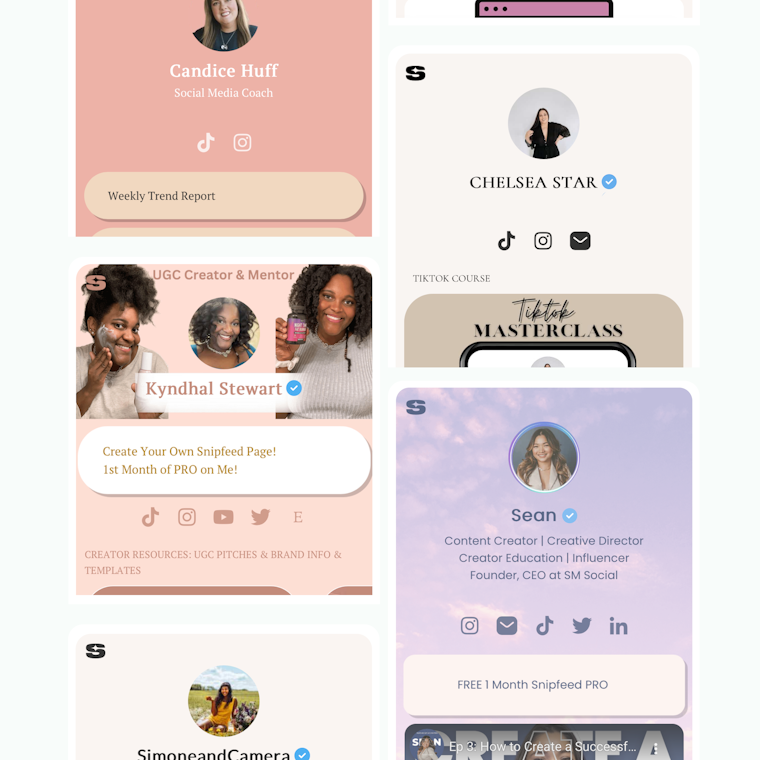 The ultimate UGC content creator kit for passive income
Don't rely on only brand deals and sponsorships for your income if you're looking to become a UGC creator. Snipfeed is the #1 app for your tool kit to not only score brand deals with our exclusive Media Kit, but also make passive income with an entire suite of social media monetization features.er the hero
Get started
Start your UGC passive income journey
Earn money through affiliate links and brand deals as well as sharing your skills with other aspiring UGC content creators. Using your suite of monetization features - there's tons of ways to earn passive income and engage your online community.
Explore more revenue streams
Explore all 5 monetization features to sell exclusive content as an extention of your social media feed and help guide other creators in their UGC journey. Share your expertise with 1:1 calls, social media audits, livestreams, never-seen-before resources, and more.
Seal more brand deals
Level up your game with brands: create a customized media kit. Pull in your social analytics, showcase past projects, allow brands to contact you, and generate perfect brand pitch emails every time with our Smart AI Outreach tool.
How other UGC creators are monetizing on Snipfeed
Check out other Snipfeed creators in your niche making passive income using the monetization features available.
Digital Products
Downloadable UGC Guide
Digital Products
Downloadable UGC Guide
Digital Products
Downloadable UGC Guide
Top selling monetization ideas for UGC creators
There's tons of creators like you making money passively while they focus on creating content and growing their audience. See best sellers for UGC creators below and try them yourself.
1:1 coaching calls
Share your skills and give advice: allow followers to purchase private social media consultations with you. Find out more.
Digital Products
Easily create and sell downloadable resources like social media guides, FAQ docs, ebooks, content calendars, and more. Learn more here.
Q&A Feature
Get paid to send video or audio responses to your followers' questions or requests, or help other aspiring UGC creators by offering social audits, personalized advice and action plans. Get more info.
Check out all the features at your fingertips