Educational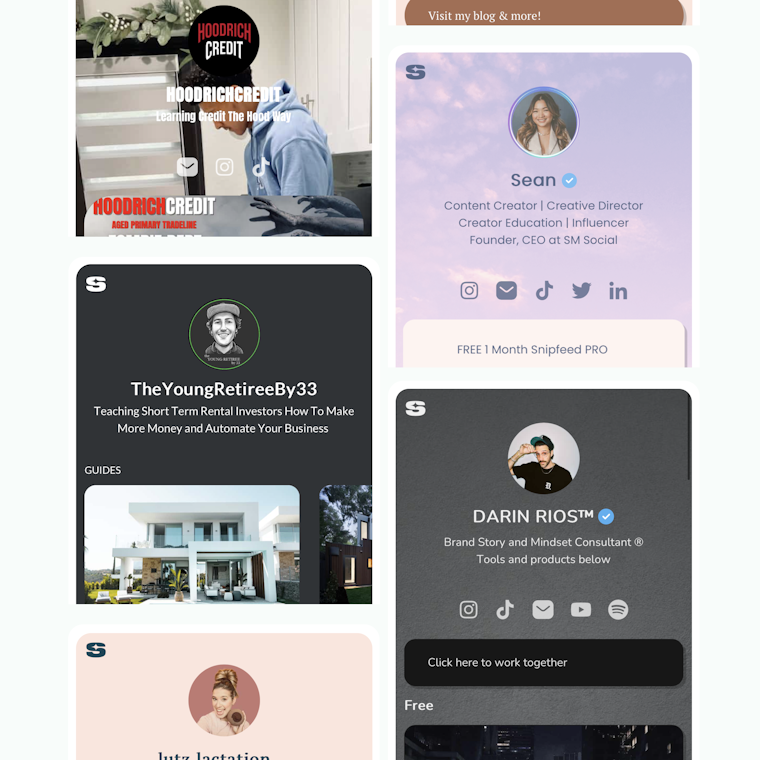 Educators of social media: earn what you deserve teaching your expertise online
Social media education is one of the best ways to build a community and share your skills. Sell digital teaching resources and sell courses onlline as well as offer live classes to start earning more than ever.
Teach, earn, grow - all on one link
On Snipfeed, you can provide a range of teaching content all in one place. Organize your schedule and start making passive income through using the suite of monetization features loved by many teaching creators like you looking to share their skills.

Take booking easier than ever
Access features such as Zapier for automating your workflow, run your meetings and online classes via Zoom and Google Meets, and sync your Google calendar to keep your schedule organized.


Set up your community for success
Curate teaching packages by choosing a range of content to offer (digital products like online courses, 1:1 tutoring calls, workshop livestreams) - plus, offer followers pay later options.
Other educational creators utilizing Snipfeed for passive income
Top sellers for the educational niche
Find out what's working for other creators sharing their skills and knowledge on social media - pick one of the top performers below to get started.
Q&A responses
Your fans will have questions - get paid to answer enquiries and respond to requests with a video, text, or audio message. Discover the feature here.
Livestreams
Share what you know in numbers - sell tickets to virtual or IRL events to teach classes or host webinars with your community. This is a great way to earn regular income. Sync to your Google calendar and host regular workshops. Learn more.
Digital Products
The best way to educate your followers is providing resources for them to grow their skills and knowledge. Sell video courses, ebooks, guides, and more. Find out more.
Get access to the suite of Snipfeed features