Join the club of creators earning easy passive income. It's easy: talk about Snipfeed on your socials and move up the ranks to win cash prizes, subscription discounts, higher referral commission and more.
There's tons of benefits when you sign up to Snipfeed and join our community - but it just got a whole lot better. Every creator on Snipfeed is an Affiliate. 
By inviting others to join you in your success, you can unlock an entirely new stream of revenue (up to $200+ extra a month!) with a generous 30% commission on what referred creators spend. 
Snipfeed just added a new levels system allowing you to graduate through 4 different levels; unlock cash prizes, Pro subscription discounts, Amazon gift cards, and increased referral commission amounts. The more people you refer, the better the rewards get.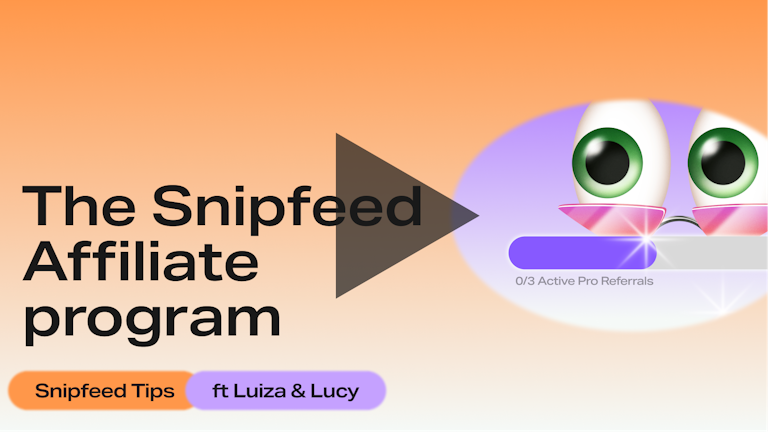 The best part? It's simple and rewarding! So, let's dive in and discover how you can start earning passive income with new Affiliate Levels now.
Getting Started with Snipfeed's Referral Program
To begin your journey as a Snipfeed Affiliate, head straight to your Snipfeed dashboard and navigate to the "Affiliate" tab. There, you'll find:
Your referral balance level (and remaining referrals you have to score until you level up)

Your unique referral link (use this to make sure we can track your referrals) 

Your total referral income and potential profits

Recent creators you've referred to Snipfeed (plus their subscription status), 

Social content inspo to boost referrals

Special challenges designed to boost your success
Find top tips on the referrals program and key ways to top up your passive income pot in the guide we created for you below. 
When you score your first 3 referrals, you'll enter Rookie level. Check out the different levels you can reach and benefits you'll win as you move up below. You can track your progress via the bar at the top of your Affiliate tab.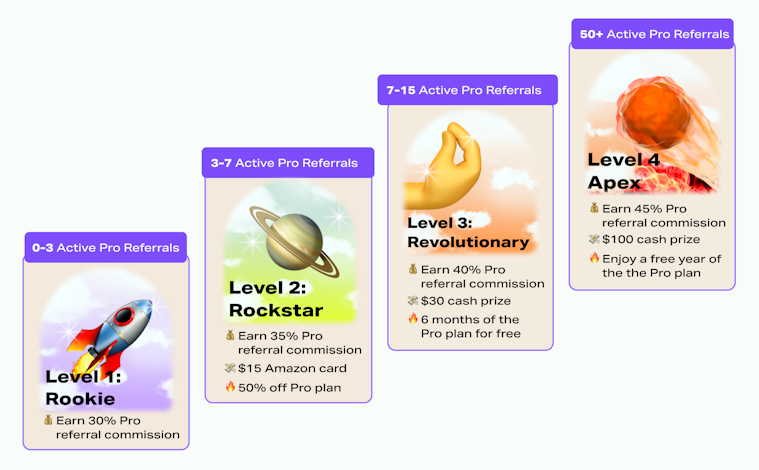 Maximizing Earnings through Effective Promotion
When you sign up to Snipfeed, you'll be able to find your unique referral link at the top of your Affiliate tab. 
Once you've added it to your Snipfeed page (we recommend adding it to the top) It's time to unleash your creativity and share the message about the power of the Snipfeed platform and the impact it's made for you and your online business on social media. 
There's no gate keeping here: share it far and wide. Social media is a powerful tool for promotion, so start creating engaging content that showcases Snipfeed's value. 
Share success stories, highlight the benefits of Pro and Starter subscriptions, highlight pain points Snipfeed has solved for you and can challenges it can alleviate for your community, and captivate your audience with powerful and relatable content hooks. 
You can find inspiration from other Snipfeed Affiliates creating content in the community and we've also created a guide for boosting your referrals here.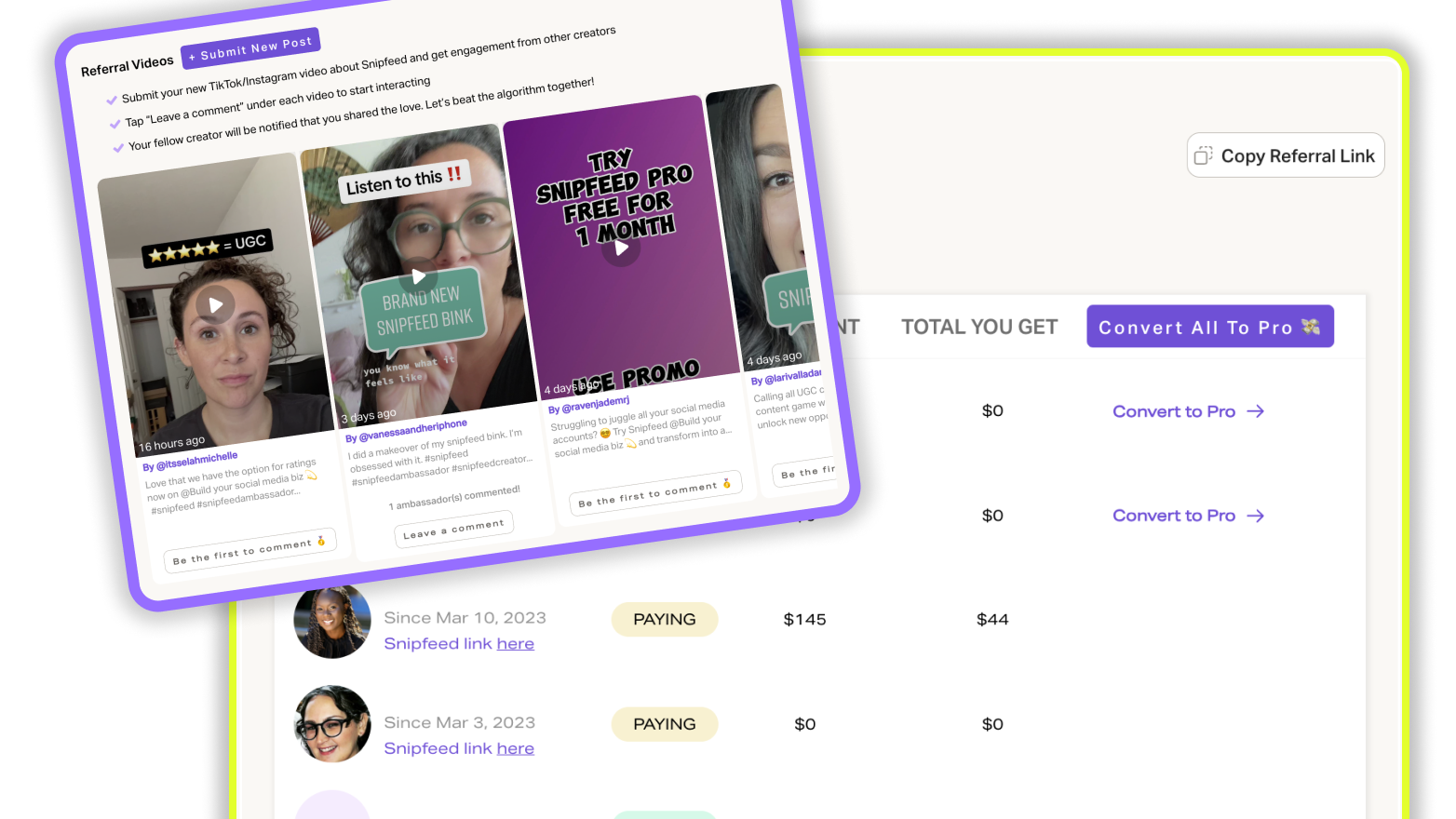 Identifying Your Referrals Target Audiences
Chances are, your audience are in the same boat as you. They have similar interests, goals, and needs for their businesses. This makes your followers the perfect group of people to share Snipfeed with on socials. 
Our top tip: Understand your audience's needs and interests to target the right crowd. Tailor your promotion to resonate with your specific niche or industry. The key is to integrate your Snipfeed content organically within your day-to-day content. 
For example, if you create health and fitness content, you can create videos on TikTok giving tips for other coaches looking to make more money and streamline their services online. 
By providing personalized insights, you'll attract more potential users to join Snipfeed through your referral link. Address your followers directly with clear and relatable hooks. 
Boost Your Commission %
One of the best ways to keep referred creators on a paid plan (so you can continue earning commission) is by nurturing and coaching them to success. 
The Affiliate tab shows which of your referred creators are still on paid subscriptions after they finish their 2 week trial. 
You'll find a button next to non-paying referrals with an option to 'Convert to Pro'. Tap, then either tweak the automatic email template we wrote for you or send as-is. Detail the benefits of Pro and share your experiences - even consider offering a free coaching session and upsell some of your other services.
Top line: Be the go-to person for your potential referrals. Be responsive, helpful, and transparent. Show them that you genuinely believe in Snipfeed and its benefits. Offer incentives or exclusive deals to sweeten the deal for them and entice them to sign up!