Black Friday is the ultimate opportunity for creators to catapult their income to new heights. Follow this guide to see what's forecasted to work in 2023.
Using the monetization features and tools on Snipfeed, some creators have made up to $10,000 in 3 days over the Cyber Weekend. 
From 1:1 consultations to exclusive livestream events and digital product bundles, Snipfeed opens the door to a world of innovative revenue streams.
The good news is, this year, we have tons more features you can leverage (from Email and SMS Marketing to the AI Desk) to make this one your most successful yet. 
---
In this guide, we'll explore the exciting prospects of Black Friday and Cyber Monday 2023, with a specific focus on creators and small online businesses operating in a multitude of niches, from coaching to astrology, education, beauty, and beyond. Here's what we'll cover: 
What is Black Friday and Cyber Monday? 

The forecasted best selling products and services for 2023

Our top 10 Cyber weekend strategies

Steps to prepare for the holiday season 
---
What is Black Friday and Cyber Monday?
Black Friday and Cyber Monday are two of the biggest shopping events of the year, marking the beginning of the holiday season. Black Friday falls on the day after Thanksgiving in the United States and is celebrated with massive in-store and online sales. 
On the other hand, Cyber Monday, which follows Black Friday, is dedicated to online shopping, offering a wide range of deals and discounts.
So what does that mean for creators and small online businesses? 
These shopping holidays represent a golden opportunity for you to leverage sales, attract new customers, and boost your brand presence. However, it's crucial to have a well-thought-out strategy in place to make the most of this highly competitive period.
---
The forecasted best selling products and services for 2023
Wanting to launch something new but not sure where to start or what type of offering to launch? First, start with asking yourself three questions: 
What topics do your community engage with most on your socials? 

What are their most asked questions? What do you see most in the comments coming up? 

What are your competitors selling? Figure out a nuance no one has covered yet. 
Once you've answered these three questions - you'll be able to come up with a solution you can solve with your offerings and services. If necessary, reuse content you already have and repackage it to create something new. See First Wave Social's tips here.
Here's some examples of Snipfeed offerings and digital products selling out on Snipfeed recently: 
#1 Repurpose and repackage with digital product bundles 
Bundle up your digital products and videos in your drafts for a high ticketed holiday item. It's easy, upload them all to a digital product bundle, upload an alternative thumbnail cover, and add a description listing its contents. 
Create a sense of urgency that prompts your audience to jump on the offer by offering a limited time promo code, or make it only available (for example) for the first 20 customers. 
See examples of top sellers on Snipfeed below - from virtual assistant bundles, to spreadsheets for one year of budgeting, to social media manager guide bundles, your opportunities are endless.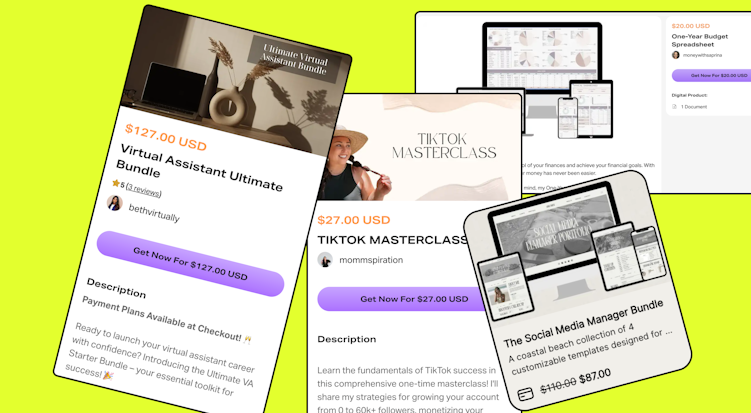 #2 Teach your audience something new with online courses
This is also a super smart way to repurpose and reuse existing content. Using the e-course feature on Snipfeed, you'll be able to pick out your best digital products and videos and organize them into modules and lessons to provide the ultimate learning experience. 
Check out the UGC Mastery Course by @sociallyaziz below. With 15 modules, she's curated her video content into a comprehensive guide for UGC beginners. She created an amazing promo video on TikTok promoting her guide by teasing knowledge for her community first.
Top Tip: Invite your community to join a waitlist to be first to access your course.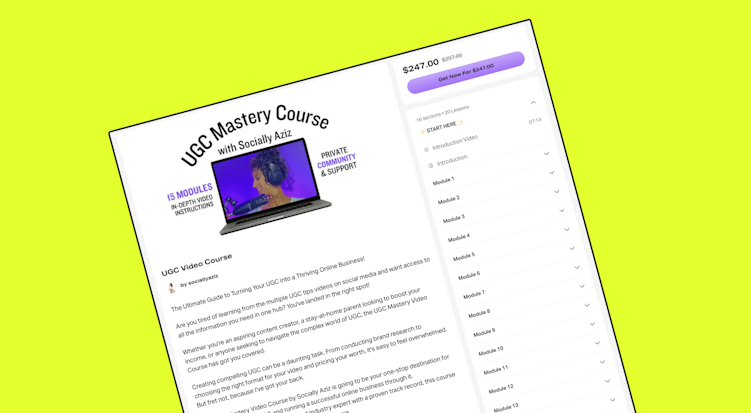 #3 Open up your calendar for your audience over the holidays
Whether you're offering personal readings as an astrology creator, putting together social strategies for your clients, or working out fitness plans for your followers - this monetization tactic is perfect for all niches.
The best way to max your sales over the next few weeks is to offer a high priced offering. The most valuable service you can provide for your audience is one on one time with you.
It's time to open your calendar and invite your audience on socials to book time with you. Top tip: when you announce your calendar is open on socials, create urgency with a limited time promo code, or only make yourself available to take bookings for the next two weeks (for example).
Take a look at @paollamichelle's best seller below.

#4 Push Q&A's - answer questions and offer services
Got a lot of people asking questions and asking for your personalized services? Try out Q&A's for the holiday season. A good way to do this is create several types of Q&A by topic and add them to a carousel to cater for your whole audience.
With Q&A's, you can manage your time effectively and set your response times as you're creating your offering in the settings. You can even create custom questions to ask customers before they checkout to help you record or write your response.
@mercymetarot's best seller is an in-depth video Q&A covering a range of topics. Decide what yours will be based on by looking at what your followers ask for most in your comments on socials or your top requested content.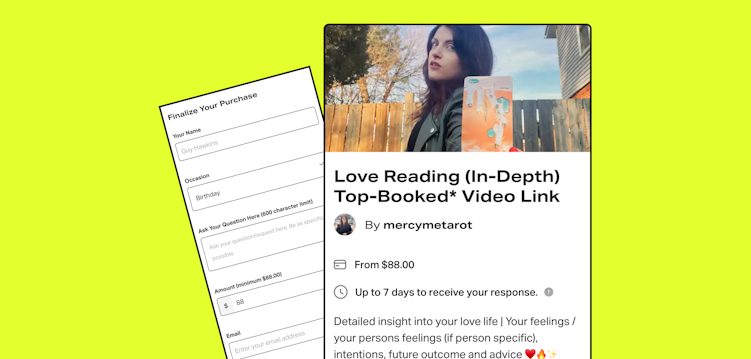 ---
10 Cyber Weekend marketing strategies to try in 2023
To stand out in a crowded marketplace during Black Friday and Cyber Monday, creators must employ innovative marketing strategies. Here are ten strategies to consider:
Create new offerings: Embrace Snipfeed's monetization features, such as 1:1 consultations, digital product bundles, Q&A video responses, online courses, and exclusive livestream events. Create fresh and exciting content for the Cyber weekend and send out a waitlist form to your contact list to sign up for access and a promo code (this builds anticipation).

Leverage Social Media: There is no better time than now to start planning your calendar - explore pain points you aim to solve, relatable struggles, most asked questions, and interact with your community.

Your storefront: Ensure your Snipfeed store is linked via your bio area across all your social channels. No one is visiting and making purchases if they can't find your store.

Optimize your page: Use our new host of features to revamp your page and get it ready for visitors over the holiday season. Move your best sellers to the top of the page, add enticing buttons with provoking call to actions.

Email and SMS Marketing: Start building your contact list now (more tips here) so you have additional ways to reach your audience directly in coming weeks. Find out how to do that here. Send out enticing email campaigns to your subscribers, offering exclusive discounts and early access to your Cyber Weekend sales.

Create Limited-Time Offers: Implement scarcity tactics by offering limited-time deals, encouraging customers to make quick purchasing decisions. Either create a limited time availability promo code, or limit the amount of times it can be redeemed. 

Upsell with automatic workflows: Retarget and re-engage visitors - send welcome freebies for people who sign up for your waitlists or mailing list block on your page, upsell immediately to customers, and more. Tip: SMS is a surefire way to know you're not getting lost in your audience's email inbox. It's going to be pretty cluttered over the holidays.

Offer Bundles: Bundle related digital products and services increase the average order value and provide more value to your customers. No time to create anything new? Repurpose and repackage what you have already. It's easy - reprice your bundle, add a new description, and add a fresh thumbnail image.

Loyalty Programs: Create a membership program in readiness for your plans for 2024 - provide ongoing benefits to your most loyal customers. You can offer a one-time discount for people who sign up to your membership before Christmas (feature coming soon to Snipfeed!)
---
6 Steps to prepare for the holiday season in 2023
Preparation and a well thought out game plan is key to a successful Cyber Weekend. Here's your to-do list to get you ready:
Set Clear Goals: Define your Black Friday and Cyber Monday goals, whether that's scoring a certain amount of sales on a specific product, hitting an income target overall, or growing your content list. Decide what your priority is so you can put your all into it.

Prepare your storefront: There are tons of ways you can optimize your Snifpeed page for selling. Look at your analytics, see where your traffic is coming from (and promote more on that channel), move your most-clicked products to the top (and create more variations of this offering), and add call to action buttons.

Craft Compelling Product Descriptions: Create persuasive product descriptions and visuals to captivate potential customers - include notices about promo codes, keep them concise and demonstrate their value, or even add a video to your listing as a teaser. PSA: there's a product description writer on the AI Desk.

Create a Content Calendar: Plan your content in advance, including blog posts, social media updates, and email campaigns. Plan your timing and automate campaigns where you can using Snipfeed's Marketing Funnels.

Segment Your Email List: Segment your email list to deliver personalized offers to different customer groups according to their purchase history, interests, and more.

Evaluate and Adjust: Continuously monitor your performance in the run up to Cyber Weekend and be ready to make adjustments if necessary.