Three of First Wave Social's Snipfeed creators, in the top 10% of the UGC niche, share their top Black Friday success secrets to success and a successful holiday season.
We asked three Snipfeed creators from *First Wave Social; @jessicaparada (Jessica), @httpsean (Sean), and @heyfromsunnyd.ugc (Denise) to reflect and discuss their most successful monetization tactics and content strategies. 
Watch the full panel discussion below.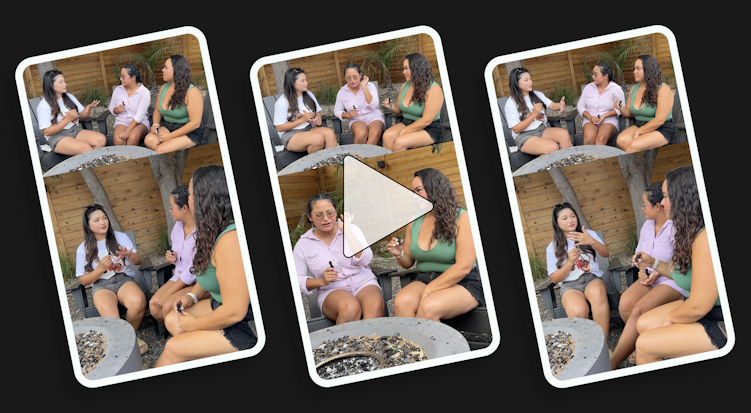 In this article, we'll share how they got to where they are today so you can put their tips into action for Cyber Weekend success this year. Let's get right into it.
Sean's $10,000 Black Friday Bundle
In the whirlwind of Black Friday weekend in 2022, Sean's innovative approach to selling digital products on Snipfeed proved to be a game-changer, making $10K with one launch. 
Hear how Sean made $10,000 in 3 days in the video below.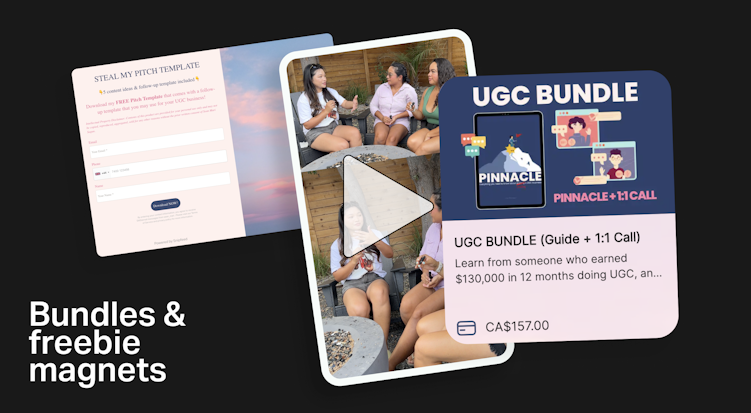 After not getting the traction she wanted the first time round, she seized the opportunity of Black Friday weekend buying intent and cleverly repurposed and repackaged her existing content, calling it the "Black Friday Bundle For UGC Creators". 
Limited edition offerings
Sean changed the price point of her UGC Bundle to $111, uploaded an alternative thumbnail cover, and limited the bundle making it only available to the first 21 customers. This created a sense of urgency that prompted her audience to jump on the offer, resulting in a stellar $10,000 in sales over the Black Friday weekend.
Offering freebie lead magnets
So how do you get your audience signing up to your mailing list to receive your content? Freebies. 
Jessica's advice is to find something you're interested in, make content about it, and when your audience starts to ask questions and show an interest - turn it into a free digital product or service. 
Sean creates freebies that her community will benefit from; like 'one-page' PDF guides, and even her most successful brand pitching template. It's simple, it's free - and it didn't cost her anything apart from 30 minutes of her time. 
In exchange for your free product, encourage your audience to enter their contact information using a mailing list block on Snipfeed. They will become your leads for selling future offerings - plus, it gives you the chance to show off your value and knowledge.
We've linked a guide to creating lead magnets here.
Engage your audience using SMS and email marketing
[clip with section of conversation]
Your mailing list becomes a secret weapon for reaching your audience directly, cutting through the noise, and standing out in the competitive holiday market. 
For the First Wave Social creators, once they collected their mailing list of high value leads, they regularly send newsletters, promote their paid products, send waitlist forms for offerings they have baking, and announce sales with exclusive promo code emails. 
You can get started with these types of campaigns right away without starting from scratch; there's templates we made for you here within your Marketing Funnels.
Get your calendar booked out with promo content
In the run up to Cyber Weekend, it's important to weave your products and offerings into your social content every day if you can.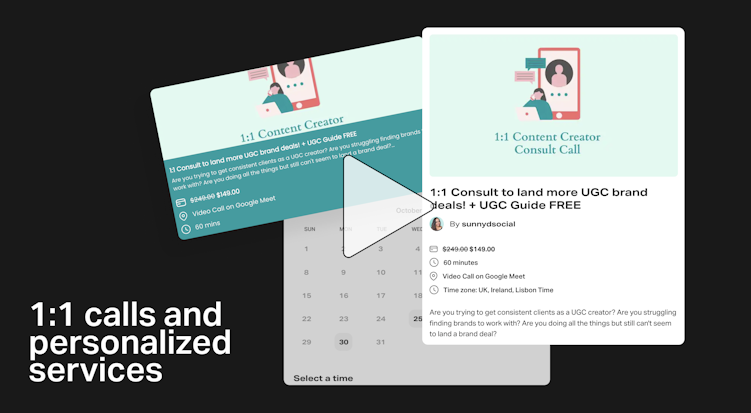 When Denise tweeted announcing her calendar was open for 1:1 UGC coaching consultation calls on Twitter, her schedule was booked out in 3 days. 
The key for all three creators was the same -  helping their community to succeed and fix their pain points. You don't need to create 'sales' style content either - just mention relatable struggles, misconceptions in your niche and find your chances to prove your value and knowledge on your socials. 
*About First Wave Social
First Wave Social is a group that was founded in Summer 2022, made up of the top 10% of UGC creators, direct-response editors, and creative strategists in North America to share their expertise, with a mission to provide UGC services through high-converting content for brands. 
They met in a Creator House (sponsored by brandsmeetcreators) in a luxury AirBnb in Austin, Texas in September to create a three day long content power house. 
Ready to supercharge your income for the rest of 2023 but not sure what to sell next? Head to our guide here and find out what's forecasted to sell most.