Looking to build a robust, high value mailing list in 2023 to rake up those sales and grow your biz? Let's talk about freebies and the exchanging value for contact info.
The power of a contacts list cannot be underestimated. It's your direct line to a community of interested prospective customers who crave your content and services. 
However, enticing people to subscribe to your mailing list can be a challenge. This is where offering a free lead generation product comes into play. 
In this blog, we'll discuss the value of providing a free tester product to incentivize people to join your mailing list.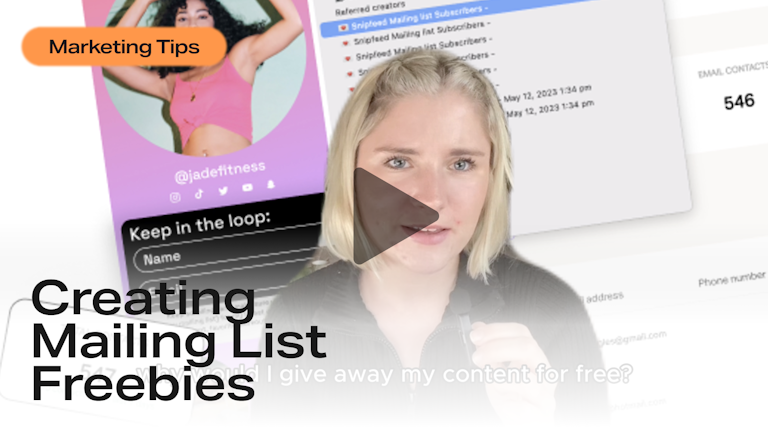 Growing your contacts list on Snipfeed
As a quick reminder before we dive in, one of the first things you should do when you set up shop on Snipfeed is add a mailing list capture block to your page.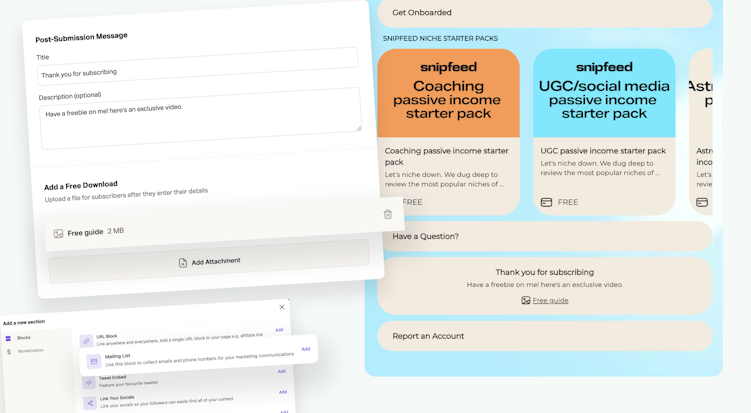 Add your mailing list capture form towards the top for visitors to discover easily and sign up. Within your mailing list block settings, you're able to upload a file for contacts to download right after submission. 
Our advice: Make sure the fact there's a free product after submission is clear and UNMISSABLE on your page. For example, you might edit your call out button text to say: "GET MY FREE EBOOK"
PSA: all your mailing list contact submissions can be found via your marketing funnels hub, on the Contacts tab.
Why give away your content *for free*? 
Imagine you're a baker. You're heading to an event where you'll be meeting tons of potential customers. You cook up one of your best cake recipes, then cut it into 100 tiny slices for people to taste at the event. Just a small taster could mean the difference between those contacts buying a full priced cake (or not).
It works for marketing in the same way:
List growth with quality leads: Freebies help you grow your mailing list with individuals genuinely interested in your content or services. They're not just looking for a one-time deal; they want to stay engaged with your offerings. 
Incentive for trading information: Page visitors took the time to click through to your store front in the first place: which means you already captured their interest. A freebie is all you need to seal the deal - they'll hand over their contact information for something in return.
Tease and Showcase Your Value: Free products allow you to give a sneak peek of the value you provide through your full-priced services and digital products. This "try before you buy" approach builds trust and increases the likelihood of future conversions.
---
Ideas for effective freebies that will capture any audience
Now that we understand the benefits, let's explore some creative ideas for creating free products for your mailing list subscribers.
1. Repurpose your existing content 
Take a chapter or section from your e-book, online course, or video series and offer it as a teaser. This provides a taste of what your full offering entails.
2. Canva "One Pager" Guide:
Utilize Canva to create a visually appealing, one-page guide related to your niche. It could be a quick how-to guide, checklist, or a cheat sheet. Ensure it's valuable and informative. Take a look at what other creators in your niche offer and head to Google/TikTok to search some untouched subjects related to your topic.
3. Short Informational Video:
Record a brief video sharing a valuable tip, tutorial, or a behind-the-scenes look at your creative process. Videos are engaging and can help you connect with your audience on a more personal level.
4. Free Discovery Call Booking Link:
Create a PDF that includes a link for a free discovery call. Share the benefits of a one-on-one conversation and guide them through the booking process.
---
As we approach Black Friday and the holiday season in 2023, starting to build your contact list now is even more important. It's the perfect time to connect with your subscribers, promote special offers, and drive holiday sales. 
Your mailing list becomes your secret weapon for reaching your audience directly, cutting through the noise, and standing out in the competitive holiday market (remember, you can reach them via email AND SMS using Marketing Funnels).
So, if you haven't already, start brainstorming and create an irresistible free product for your prospective subscribers today. Don't miss out on the opportunities the holiday season brings, and make the most of your mailing list's potential. Happy converting!