Despite spending most of our time nuturing leads on social media, email remains one of the most effective tools for converting and upselling your offerings to your contacts list. Here are top trends this holiday season using Snipfeed's new builder.
Using the new and improved Email Builder on Snipfeed, it's never been easier in 2023.
In this blog, we'll explore the innovative ways you can use the drag and drop builder of features to craft high-converting emails. 
Plus, we'll provide examples and pre-made email templates to inspire your email campaigns. Let's dive in!
1) Send out regular eye catching newsletters
Design an engaging newsletter with our new Drag-and-Drop Email Builder. Incorporate your brand's unique colors, shapes, and logos to make your audience want to read and digest the content in your email, plus, keep opening them every time they land in their inbox. 
Include a captivating header and use it as an opportunity to showcase your latest products or services. Include a mix of buttons, image galleries, and text sizes to make your newsletter engaging. 
Provide real value (resources, news, useful links) and include your products only when it feels natural to do so - that way, your audience will continue to open your newsletter every time it hits their inbox.
We created a Newsletter template for you to edit and send off to your subscribers here.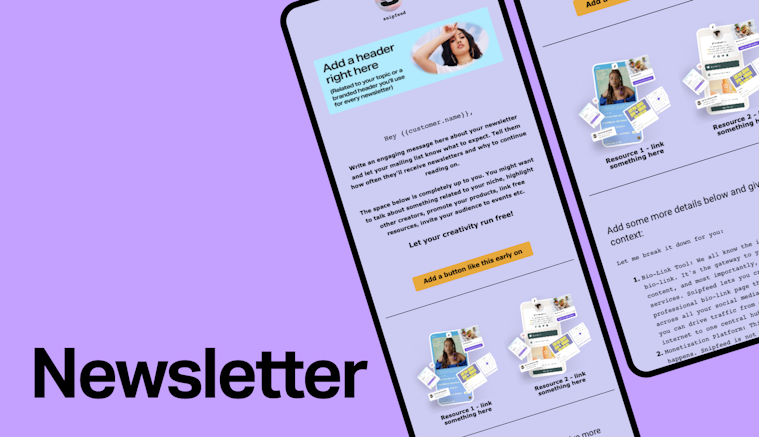 2) Highlight your products: send a promotional email
Boost sales by sending out product promotion emails. Feature your best-selling products, highlight their benefits, and add enticing 'call to action' buttons. Get started with our New Product Arrival template.
Use the text or image block to add in customer reviews or testimonials to build trust and credibility, or embed a video from TiKTok or YouTube showcasing your product or service.
With our builder's quick editing capabilities, you can add Snipfeed (and external) products instantly as embedded shoppable links. It looks super professional and you're able to choose a thumbnail to boost those clicks.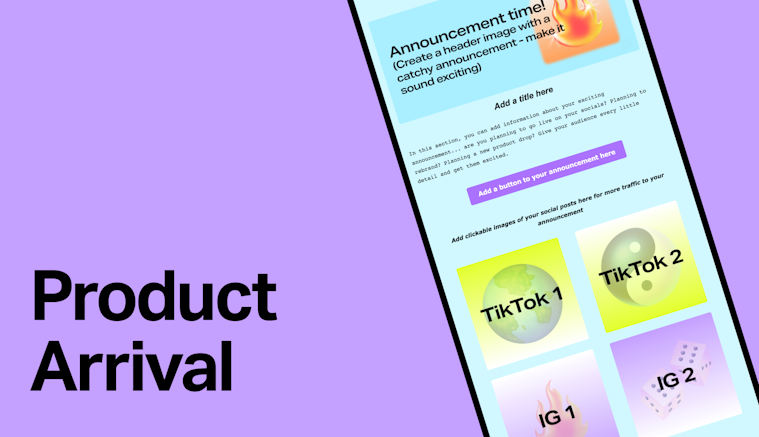 3) Offer a freebie
Offer a freebie or tester product and mention it in your subject line. A taste of your content or service will entice your audience to make higher ticket purchases. 
You can feature downloadable 'lead catcher' freebies to your email template by using the Products block. Just add a free digital product to your Snipfeed store, hide it from your page and paste in the shareable URL into the Product block.
Get started with a Freebie Template we prepared earlier here.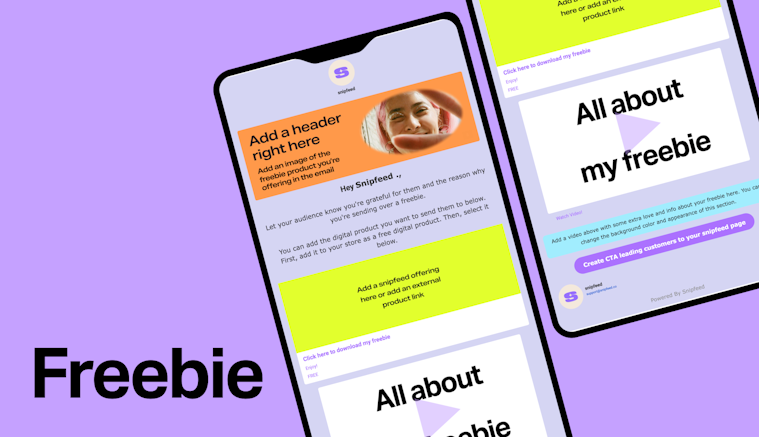 4) Flash sale alert
Time to run a sale exclusively for your mailing list. Include images of your product and insert a promo code that stands out with a clear call to action button to your product. 
Create a sense of urgency with a flash sale alert email. Use bold colors, attention-grabbing headers and experiment with different image galleries and thumbnails to make your message stand out. 
Edit the Promotion Email Template and you're ready to go.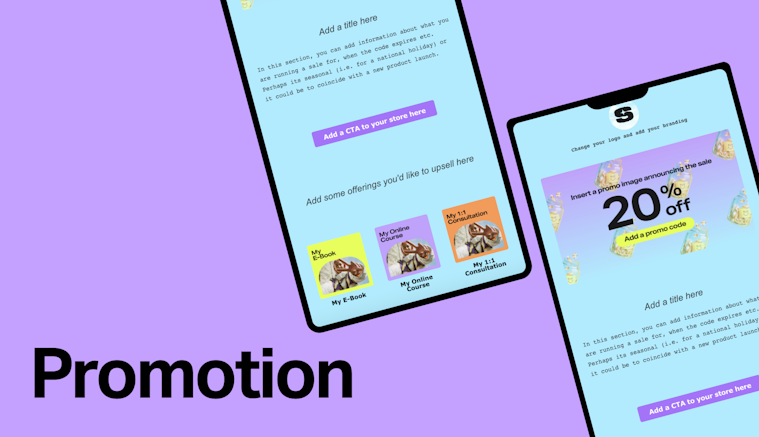 5) Personalized recommendations
Leverage email personalization to the max. Craft emails that recommend products or content based on each recipient's past interactions and preferences. 
Our Drag-and-Drop Email Builder allows you to easily customize these recommendations using the product block - select your snipfeed (or external) product, add a thumbnail, some description text, and you're ready to roll.
Pro Tip: Include a "You might also like" section to upsell or cross-sell related products or services. Make sure to add several products with different price tickets to make sure you cater for everyone.

Try out the New Product Arrival Template to get started.
6) Create anticipation for new products with waitlist invites
One of the best ways to gauge interest in new products you want to launch during the holiday season is to encourage your audience to join waitlists for first access. We built a Waitlist Template here for you to use.
Create a custom Form in your Marketing Funnels hub for leads to apply for exclusive access and paste in the shareable link behind a call out button or add a clickable image. 
You'll be able to send a product announcement campaign (we linked a template for you) later on using the Contacts section of your account and creating a list from your form subscribers.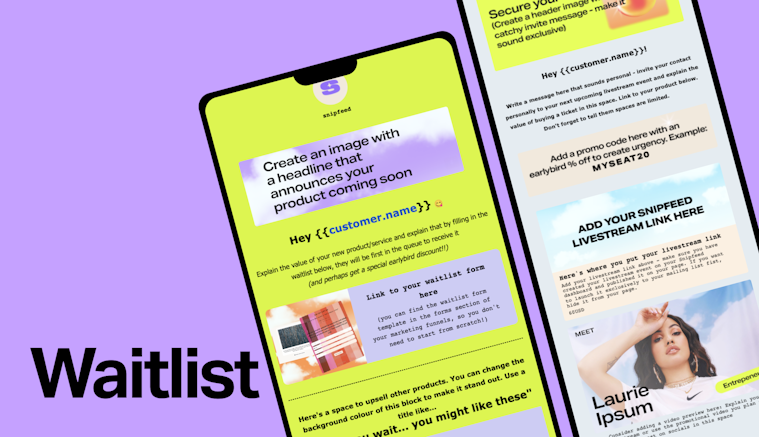 Ready to start building?
It's time to unleash the full potential of your email marketing efforts for the holiday season. Upgrade to Snipfeed's Pro plan to unlock access to email and SMS send credits. Get Started Now.