Create professional invoices in moments with Snipfeed's invoice builder. Using our optimized template; customize the details, send payment links, track payments in real-time and pay out directly from your dashboard.
As an online business, when you have delivered your services and are ready to be paid for your hard work, sending your invoice is the first step (and one that should never be missed). 
Running an online business 101: always send an invoice
Even if a brand, agency or platform says you don't need to, know it's important to send an invoice if you provide a service. Make sure to include all the details like issuing date, contact info, description of the campaign, payee details, payment terms and most importantly, your due date.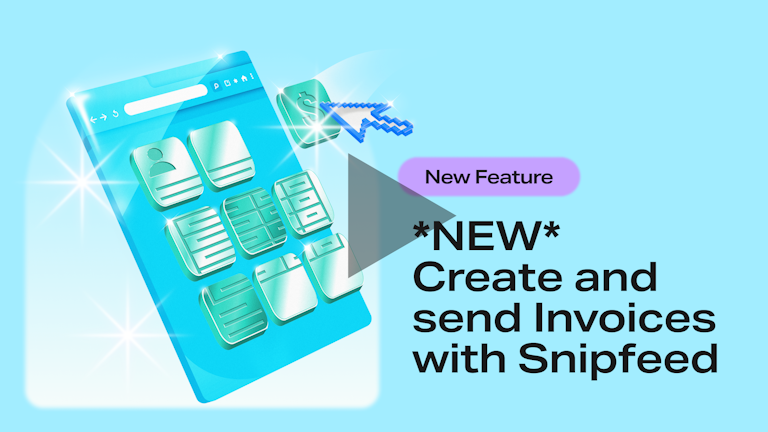 Check out the new Invoices feature in your Snipfeed dashboard below.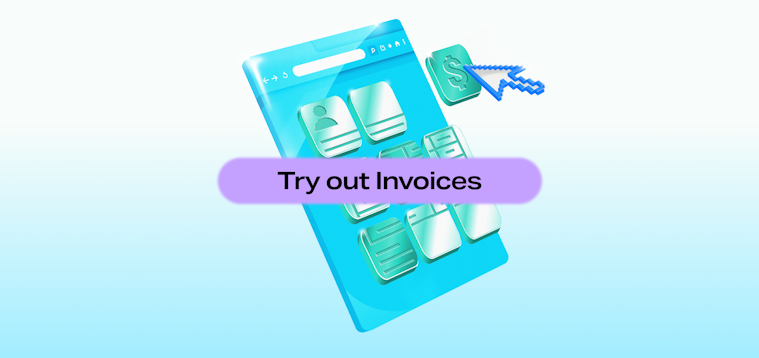 Tips for getting paid on time 
Agree on payment terms: Before you start the collaboration, agree on payment terms like how you're going to be paid, when you're going to be paid, and who to invoice. Most large companies have a set number of days to process your payment (30, 45, or even 60 days). Ensure you check this before you carry out the work.
Chasing up payments: With the right approach, dealing with late payments doesn't have to be tricky. Before the invoice is due, make sure your contact received the invoice, and ask for confirmation of receipt when the invoice is sent. When you're due to be paid, send a 'friendly reminder' leading up to the due date (e.g. a reminder that payment is due in 3 days). 
If the invoice is overdue, follow up with details including when the payment was due and resend your invoice. It's important to stay professional and friendly in all communication, and to keep track of all correspondence.
Invoices as easy as 1, 2, 3
There's tons of invoice builder softwares on the internet, but most require a paid subscription. We know that getting paid what you deserve is the most important part of running a business online - so we added a simple, pre-made invoicing template for you to fill out and send off in seconds. 
Here's the features you'll need to start getting payments in: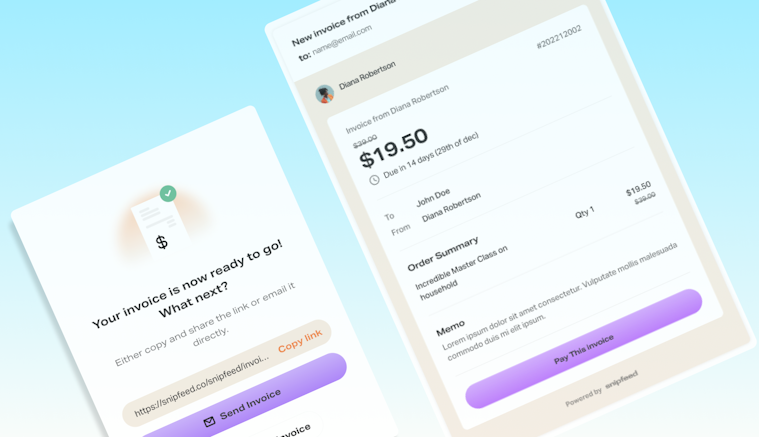 💰 Professional, clean invoice template 
We've designed an optimized invoices template to make your life easier, following industry standards, it has everything you need to request payments in the right way. It's simple, clear, and easy to read.
📨 Download, get a link, or instantly share invoices via email 
Send invoices with the click of a button. After all your details have been entered, choose to either download your completed invoice as a PDF, copy the URL link to share yourself, or hit 'send' - the invoice will be sent to the recipient instantly. This feature eliminates the need to manually email the invoice, saving valuable time and effort.
💨 Direct payments, immediate checkout and varied payout methods 
There's no need to spend time filling in your bank details - or require payees to wire you payments manually. By sending invoices with Snipfeed, third parties can pay you directly via a custom checkout page. Payees also have the option to pick their preferred payment method. It's frictionless, speeds up the process, and reduces late payments.
👉 Break down your paid services with line items
Break down your paid services and deliverables clearly for more detailed tracking and full transparency of what you've carried out. That way, you can show your payee how your pricing has been broken down. Making all your separate line items clear from the get-go leaves no room for doubt, meaning less back and forth.
📘 Automatically calculate and apply taxes 
Snipfeed's invoice builder is designed to help creators quickly and easily calculate and apply taxes when sending invoices (with a set of VAT, Sales, and GST to choose from) which are then automatically applied to the invoices. The invoice builder also allows for easy customization of the tax rate depending on the customer's location. This is a huge time saver. 
📧 Send payment receipts 
If you've already sorted payment - Snipfeed's invoice builder also gives you the option to send 'free' invoices as a receipt. This makes it possible for you to lay out the services you have completed for yours and your payee's tracking.
✔️ Track and organize payments 
Working with several people in one go? Avoid getting overwhelmed and track your payments via the invoices feature on your dashboard. Keep on top of payments you have outstanding and completed in one place and access the invoices you've sent at any time.