Here's everything you may want to know about the Reels Play Bonus Program.
If you haven't heard, Instagram is now heavily prioritizing Reels. For creators, this is great news as Instagram just introduced the Reels Play Bonus Program, where they'll be paying creators to make content, in order to gain more original short form videos on their platform. So how does one take advantage of this program and start making money from Reels? Read on.
Creators can monetize through Reels after receiving an invite to the Reels Play Bonus Program. If you qualify for this program, Instagram will send you a notification that you're eligible for Bonuses on your professional dashboard. If you accept this invite, you'll be informed of what your personalized monthly maximum bonus is, (eg. $1,000) and how many total Reels plays you'll need to be paid that sum (eg. 100,000 total plays). These amounts are different for each creator and the bonus can range from anywhere from $600 to an estimated $35,000.
According to Instagram's monetization policy, in order to be eligible for the program, "creators must have an authentic, established presence and maintain a sufficient follower base" but Instagram does not specify what sufficient equivalents are exactly. To be eligible, creators must be at least 18 years old and adhere to Instagram's community guidelines.
Once you're accepted, can choose what Reels you'd like to count towards monetization and towards your bonus, although we'd recommend counting all your Reels towards your bonus (because why not!). To have a Reels count towards monetization, record or upload the content, follow the normal routine to post, and then select the bonus tab above the Share button, pictured below.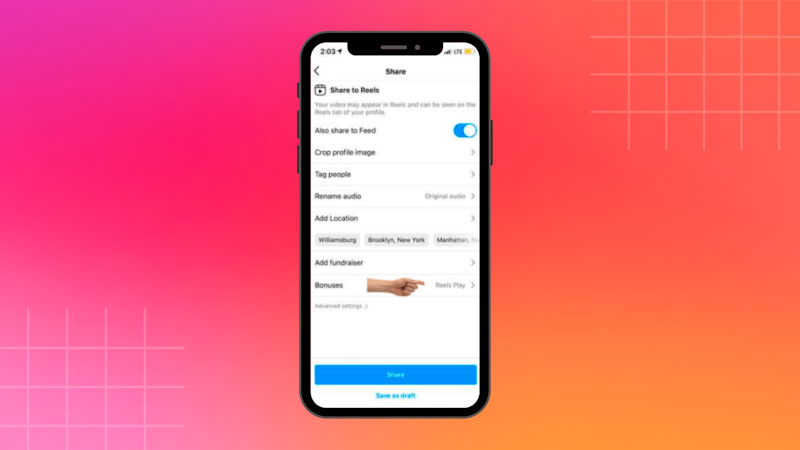 If you forget to activate "Reels Play" prior to posting, Instagram allows you to change this setting for the specific Reel within 24 hours. You'll also be able to track your earnings in the professional dashboard under "Bonuses." Once the deadline has closed after the 30 day period, you can expect a payout the following month through either PayPal or as a direct deposit.
We asked our incredible Social Media Intern, whose also a part-time creator, about her experience with Reels Play Bonuses. This is what she had to say👇
"For some background, I have 11k followers and had posted Reels only twice before receiving an invitation from Instagram to join Reel Play Bonuses Program, back in January. My maximum bonus goal is currently set at $1,200 if I receive 1.09M total Reel plays. I've noticed that every 30 days Reels resets this bonus, but for the past two months my maximum bonus amount has not changed.
After being selected for the program, I knew receiving 1.09M total Reels plays this month was going to prove difficult given my following, but I was really excited for the challenge. If I wanted to reach my maximum bonus I would have to create a schedule for posting regularly, maybe even multiple times a day. I'm currently working to meet this goal!
Overall, from my experience, I'd say the Reels Play Bonus Program is worth the extra effort. At the end of the day, I am making money on content I'd have posted anyways, and the nature of the program pushes me to produce more content than I may have without the program. I've learned to approach posting Reels with a more casual attitude and have seen how sometimes those simple videos do better than the ones I spend time on perfecting.
In terms of creating content, I've noticed many creators recycling content from TikTok but have also noticed Instagram's algorithm will shadow ban content that has watermarks from its competitors. Since these marks are discouraged, a way to combat this issue is by filming your content using the Camera app and editing on In-shot – which has a feature that crops the video to each platform's specific format." You can read more tips on how to create high-quality, viral-worthy Reels in our most recent blog post here. ★