(and counting)
What's the most viral video you've ever come across upon on TikTok? Perhaps, it was Bella Poarch lip syncing, or Khaby Lame myth-busting a life hack? Or maybe it was @mrsbtv, a teacher and creator who consistently generates up to 30 million views on her videos and recently garnered a whopping 35 million with a TikTok of her dipping a spoon of cocoa powder into water and, after the powder came out dry, explaining the concept of hydrophobia.
Mrs. Nancy Bullard, also known as Mrs.B TV, is a science lab teacher based in North Carolina who also creates content part-time, educating viewers all over the world on scientific concepts through her viral TikTok videos. We were lucky enough to sit down with Nancy to discuss how she manages her rapidly growing platform, how she balances her teaching career with motherhood and creating content, and how she's monetizing her platform.
Nancy starts the conversation with mentioning how she's always loved science and how this passion led her to a teaching career. While teaching, Nancy grew accustomed to breaking down scientific concepts so that even her youngest students could grasp these oftentimes complicated ideas. This strength defines her TikTok content as well, where Nancy is known for providing her followers with clear and entertaining explanations of scientific concepts.
When the pandemic hit in March 2020, Nancy and her students had no choice but to move to virtual learning. At this time, Nancy began brainstorming how make learning online as interactive as possible. She adds, "when schools closed, I noticed a dip in my attendance and I was just trying to find a way to creatively engage my students and excite them about online school which was so tricky." She landed on creating a TikTok account for her students to watch and learn from, and began creating videos showing experiments that her students could perform using items from around the house. She recognized that if her students, and children everywhere, were going to be on TikTok seven hours a day during lockdown then maybe they could learn something in the process.
Nancy's first viral video showcased a paper towel trick, where she put a paper towel on the bottom of the cup, and submerged it under water vertically. After flipping the cup back over and taking the paper towel out, it was still dry. This video surprised and interested many TikTok users that had to try the experiment out for themselves. Thousands of people duetted her video and tried out the trick.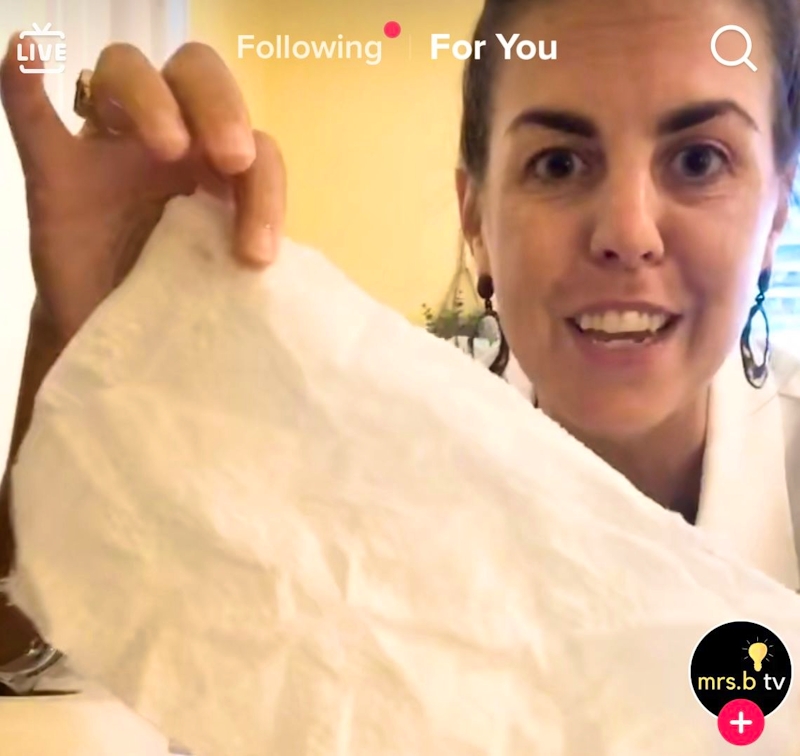 Credit: @mrsbtv 
Nancy describes her audience to be lifelong learners: people who, no matter how old or young, are interested in learning. She adds her audience is also likely made up of children, parents that have children and want to teach them science, or — in general — people who are just interested in learning more about science.  She mentions, "the same strategies I use in my classroom are resonating with people of all ages. Everyone just wants to understand things in a simple way and I strive to do that in videos, explaining scientific things in a straight forward way."
Although Nancy loves creating short-form videos, she also juggles being a full time science teacher and being a new mother. She adds that setting goals and making lists allows her to balance such a schedule.
Due to her major popularity on TikTok and now Instagram, Nancy has had numerous opportunities to monetize. Besides the TikTok Creator Fund, brands often reach out to her for partnerships. When a brand is both educational and relates to science in some capacity, then Nancy typically considers this a good brand fit. Other ways the science lab teacher monetizes is through using various features Snipfeed offers, such as the tipping and personalized shoutout features (you can check her page here).

One only has to navigate to Nancy's comment section to see how she's positively impacting so many, where comments range from students saying hello to their favorite teacher to comments from fans of her page. One fan comments reads "TikTok is teaching me more than school." ★