Meet Snipfeed's brand new Media Kit feature. Present, negotiate, organize. All in one place - create your influencer portfolio in minutes.
You only get one first impression, so make it count. Showcasing your portfolio and negotiating deals just got a whole lot easier. 
Snipfeed creators said one of the main challenges they face is getting brand deals and showcasing their work, analytics, and experience all in one place. We've been cooking a solution up. 
Here it is: presenting a full suite of customizable features allowing you to set up your dynamic brand resume in a few clicks. Take a look around in your Snipfeed dashboard and we'll explain the features below.
Give your Media Kit portfolio the design it deserves
The Media Kit wouldn't be a Snipfeed tool if it didn't have tons of customization options. It's crucial this page mirrors your brand aesthetic, so personalize every detail from your font, page background, button and text colors, and more. 
Plus, add additional pages to your Media Kit, making it flow like a real website. By spreading your content over several pages, you'll give each element of your Media Kit space to breathe. 
Now, next up: your suite of features to help you present yourself and your work in the best way.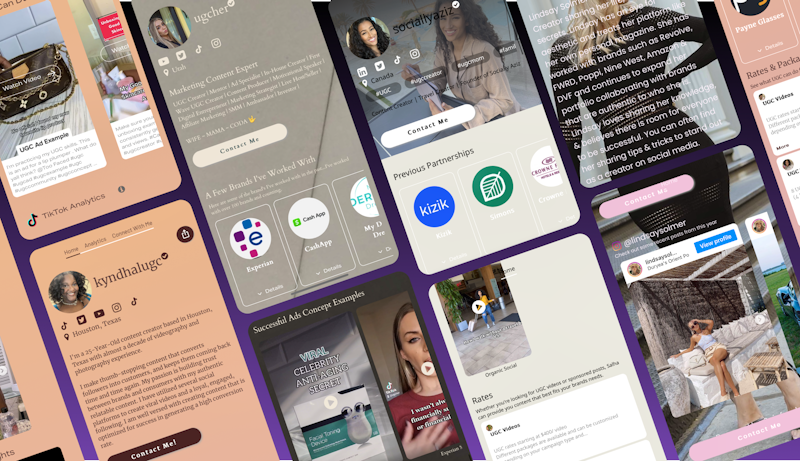 Pull in your social analytics 
The ultimate way to sell yourself: show your content works and give brands a glimpse into the impact you could make on their campaigns. Connect your social media accounts to your Media Kit to pull in the data you want to showcase on your page. You can pick and choose which metrics to show and which to hide. 
Present your fees with rate cards 
If you offer several types of content packages (i.e. a bundle of UGC videos, a set of Instagram Stories, a series of feed photos), this is your space to present what you charge. That way, brands can get a sense of how much your content costs so you can begin negotiating at the right price for you. 
Tip: always leave room for negotiation! 
Curate your experience and showcase your talents
Embed visuals: think of your Media Kit as a gallery of your most successful campaigns and content collaborations you're most proud of. We've made it possible for you to pick and choose - add carousels making your best imagery and video content shine. Plus, present perfectly curated carousels of TikTok videos, Instagram posts, and YouTube content. 
Past brand deals: create a resume of brands you've collaborated with the past. Add a card per project; upload the brand logo, add the date, rates, description of the project, links to your deliverables, and more.
Brand reviews: once your projects are complete, use this tool to request testimonials and reviews from brands you've worked with to showcase on your Media Kit page.
Smart outreach tool: contact brands with optimized emails
Spend less time writing emails, edit in-app, shoot it off to your dream brand. Gone are the days spending hours a week typing out personalized emails for tons of brands. With the Smart Outreach tab of your Media Kit, you can generate AI optimized outreach emails in seconds. See how it works here.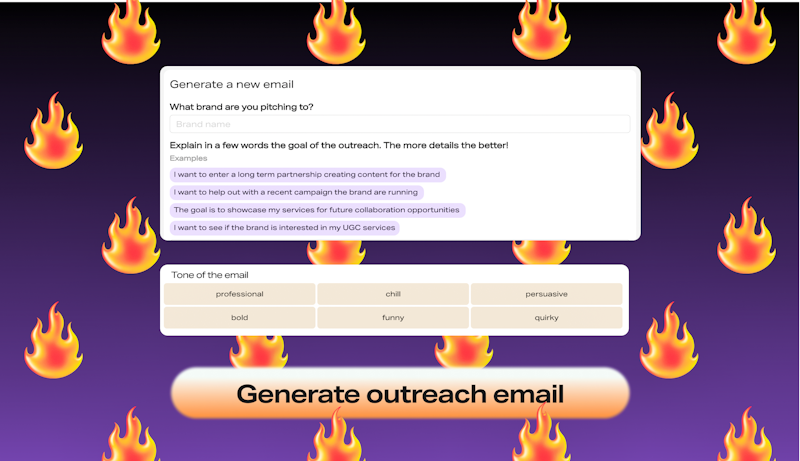 Fill out the brand name, describe the goal of your outreach and what you're interested in achieving with the brand, then choose the tone. Ta-da! The perfect email. Now copy, paste, and hit send!
Receive, negotiate, organize brand requests, collect reviews 
Once you've personalized the brand contact form on your Media Kit page, all submissions will show here. Use this as your to-do list - you can use this to get back to brands and edit the status of all your projects.
Once your projects are complete, use this section to request testimonials and reviews to showcase on your Media Kit page.


Ready to win some brand deals? Upgrade to Pro and let's get started.