Let's discuss how creators can leverage the powerful SMS marketing tool, some do's and don'ts, and some useful hacks for engaging and upselling your Snipfeed products and offerings.
SMS is an incredible marketing tool for online businesses selling on social media as it provides an incredibly direct and personal way to connect with customers and build relationships. SMS is a cost-effective, easy to use, and universally accessible to all types of niche and customer.
Would you be faster to open a text message or an email? SMS allows you to send personalized, targeted messages that have a much higher likelihood of being opened and read, with increased chances of engagement than other forms of digital marketing. This channel is effective not only for making sales, but assisting in helping you to smoothly run your services and offerings (e.g. transactional messages and reminder texts before events).

The good news is, Snipfeed's Marketing Funnels feature allows creators to easily set up and send SMS campaigns in a few clicks. Keep reading to find out how you can leverage this powerful tool, some do's and don'ts, and some useful hacks for engaging and upselling your Snipfeed products and offerings. Let's get into it.
How to set up an SMS campaign on Snipfeed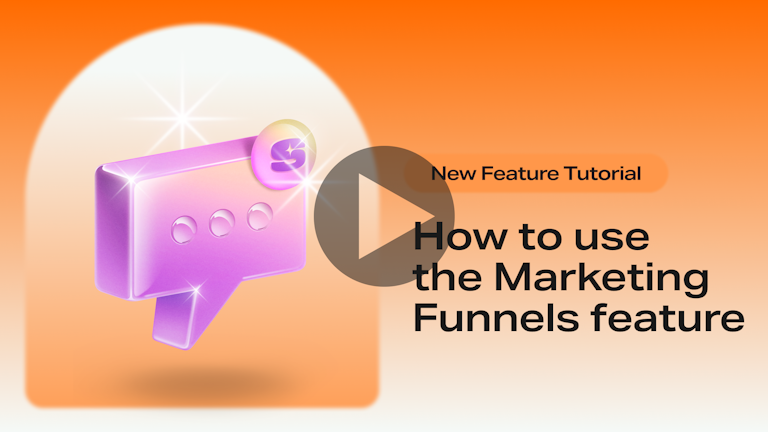 #1 Find the Campaigns tab of your Marketing Funnels dashboard. Click + Create a text campaign.
#2 Start drafting your message. A good place to start here might be simply sending a welcome message to your contact list. For example: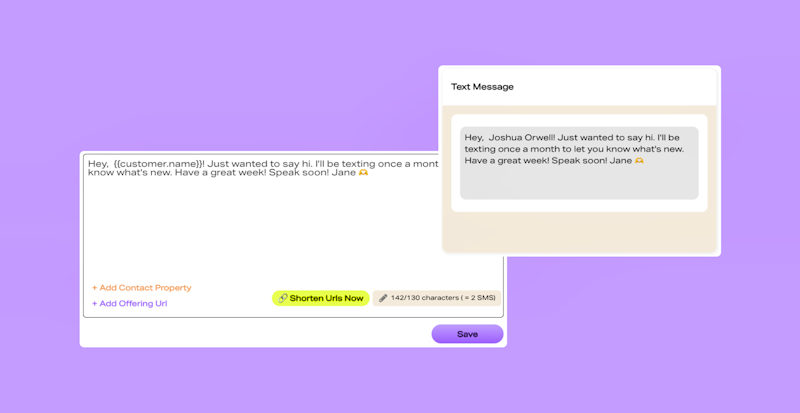 #3 Always add a Call to Action link. Think about the goal of your message and the action you'd like your customer to complete after reading it. Any links you add will be shortened automatically - which means you'll be able to track who clicks on your links and you'll have more characters left for your message. 
#4 Consider your character limit. There's 130 characters in an SMS message. If you need to write more, you can - we'll count it as more than one SMS (keep in mind, this will require more credits). 
#5 Pick an audience you created beforehand. For example, do you only want to send this SMS to contacts that have signed up to your mailing list? Or people who have registered for your Livestream next week? Your choice.
#6 Send yourself a test SMS - always recommended to make sure everything's perfect.
#7 Choose a date and time to send your SMS. Tap Save and Send (or save as a draft) and Viola! You're all done.
SMS Marketing Do's and Don'ts
Although SMS campaigns are super easy to set up, there's a few elements you should consider carefully before you start sending. Check out recommended do's and don'ts listed below.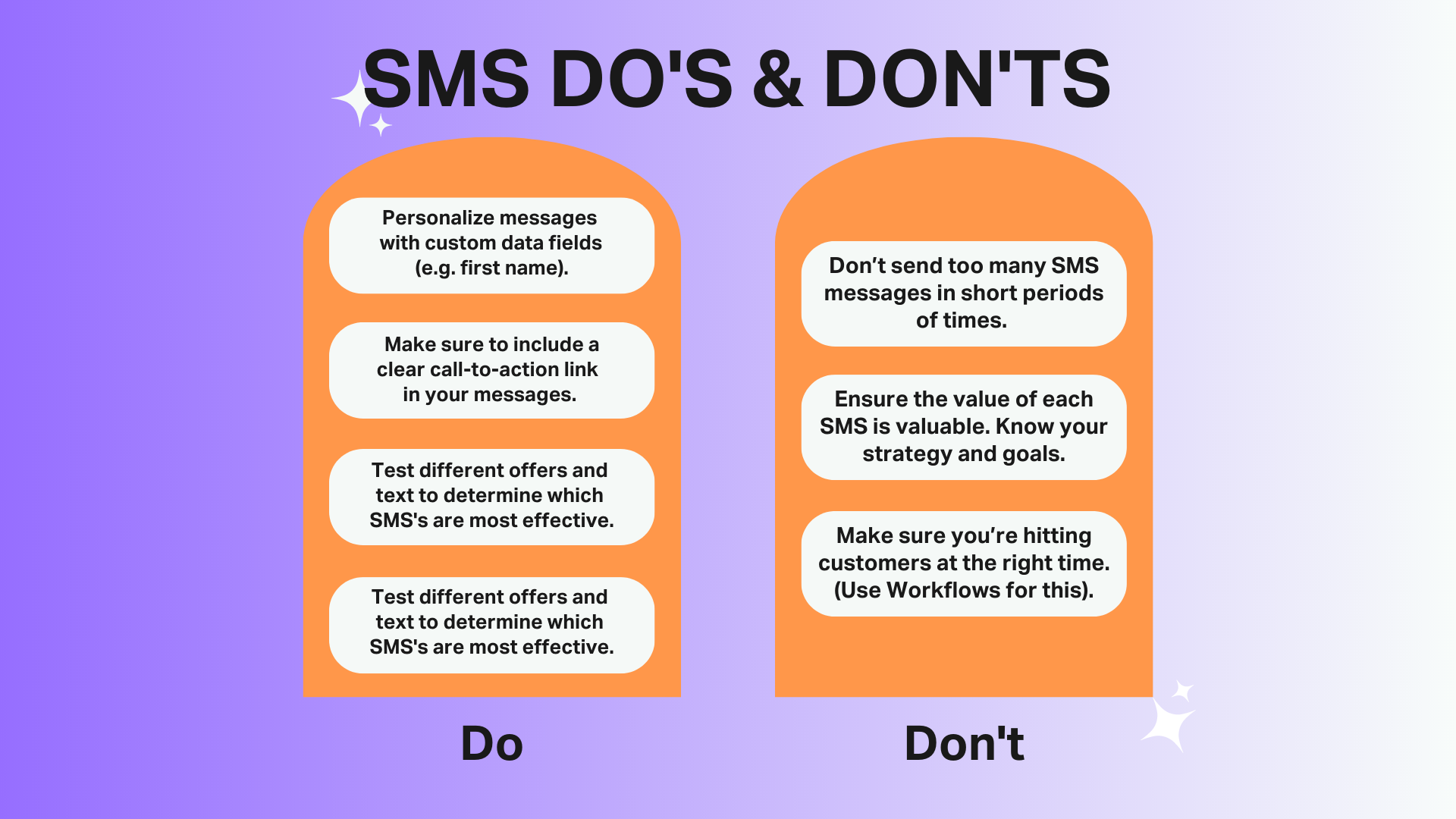 SMS Campaign for creators ideas
Below, we've collected examples of SMS campaigns you can send according to two goals:
Increasing sales and profits

Boosting engagement and growing your community
SMS Campaigns to boost engagement:
Create a "Freebie Fridays" campaign. Send out an SMS every Friday with a link to a free download of a digital product or online course on Snipfeed.
Send regular SMS updates encouraging fans to interact with you. For example, send weekly goals or affirmations to help motivate your community.
Text followers to let them know when you have new content published on socials, or point them towards contests or campaigns you have running.
Send out an SMS with a link to a survey or poll. Ask your customers their opinion on your digital products and services, or what they would like to see in future offerings. This will help you to better understand their needs and ensure that you are providing the best experience possible.
Set up a workflow to send a thank you message to all customers who purchase from you - let them know you're grateful for their purchase. You can also set up reminders for upcoming bookings customers have with you, like 1:1 consultations or livestream events they have bought tickets to.
SMS Campaigns to win more sales:
Send follow up SMS messages to customers after they have purchased from you offering another offering similar. E.g. after a 1:1 consultation, pitch a follow up call.
Send SMS updates whenever you add a new product or offering to your Snipfeed page so customers are kept in the know and are "first to the party". Add a time limit to the offering before it is taken down from your page to create urgency, or provide a promo code for early birds.
Send a 'lead catching' SMS campaign to welcome those who purchase from you for the first time or sign up to your mailing list. Provide a link to a free exclusive content to warm up customers - those who see the value in your offerings will go on to make purchases.
Send out a "Refer-A-Friend" SMS campaign encouraging your customers to share Snipfeed offerings with their friends. Offer a reward once you reach a certain amount of sales, such as a discount on their next digital ticketed livestream, Q&A response, digital product, paid 1:1 call or online course. How: Send a unique promo code per campaign to track referrals. Once you hit your goal, send a gift to the audience.
Set up a loyalty program with SMS notifications to reward customers for their repeat purchases. Offer exclusive discounts, free access to digital products, or exclusive access to new online courses to keep them coming back for more. How: Segment your contacts and create an audience of customers who have purchased from you (for example 3 times). Set up an Automatic Workflow that triggers an SMS to be sent with a link to a hidden, free offering on your Snipfeed page.
Use SMS to send out exclusive discounts and promotions for your digital products and services. Offer a discount code or coupon that can only be redeemed via SMS. 
Create a "Freebie Fridays" campaign. Send out an SMS every Friday with a link to a free download of a digital product or online course on Snipfeed. 
Check out the workflow templates in the Automatic Workflows tab of your dashboard to set triggers and actions up easily. We also came up with most of the ideas for you!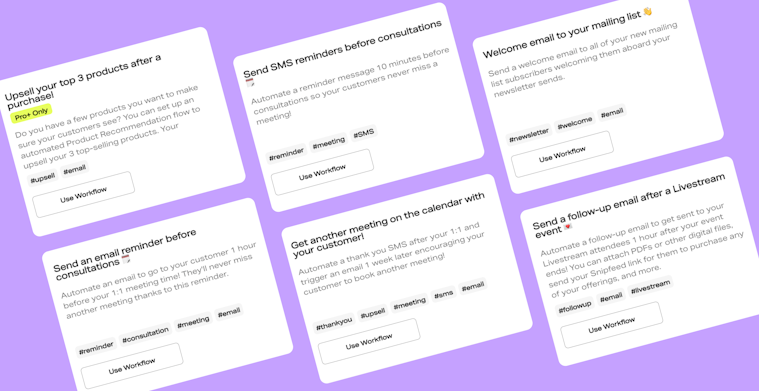 To start using Marketing Funnels, you need to be on the Starter, Pro, or Pro plus plan to get different levels of access. Head to the Marketing Funnels feature below to check it out and pick your plan.