We're excited to share that we've recently raised a $5.5M seed round with investment from Charles River Ventures; Abstract Ventures; Ali Hamed at Crossbeam; id8; Michael Ovitz; Michael Bosstick Up North; Isai, Diaspora and First Capital.
Results from a recent survey showed that more American children aspire to be a YouTuber (29%) than an Astronaut (11%). On Twitter, reactions to this finding ranged from shock to excitement. Many commented that this new aspiration points to how the meaning of a "job" has dramatically changed from the traditional office grind. Others went further to note how this goal reflects a novel path for the younger generation: one with far more opportunities to capitalize on creativity than most 9-5 roles can provide.
Although the creator market is burgeoning — creator businesses are becoming the fastest-growing type of small enterprise — only the most popular creators are able to make a comfortable living from their craft. Most aspiring creators are required to look for other ways to earn an income.
This gap between creator opportunities has widened even further throughout the COVID-19 pandemic. With the uncertainty of the past year,  top creators began to explore alternative revenue streams and are increasingly moving beyond sponsored content. Instead, they are migrating their most engaged followers off their social platforms and into their own paid communities, apps, and monetization tools. These kinds of transitions, while lucrative for the top, continue to be much harder to execute for creators without access to an agency or other support system.
Despite forming the lifeblood of social platforms, the 46+ million long-tail of creators lack the tools necessary to monetize their audience.
Enter Snipfeed.
How It Works

Snipfeed is a one-stop monetization platform that allows creators to seamlessly start and grow their businesses where their followers already are — through a link in their social media bio.
Snipfeed allows followers to purchase exclusive content and personalized videos, buy tickets to creator livestreams, send tips, book paid 1:1 meetings, and access all of the creator's assets across the internet, such as merchandise and other social profiles. Creators can offer all of this to their followers through one easy-to-customize link. Snipfeed's built-in analytics also enable creators to better understand, adapt and engage with their audience.
While other platforms provide limited, pre-set monetization opportunities, Snipfeed allows creators to experiment with a set of tools so they can find what combination of monetization features resonate most with their audience.
Snipfeed is designed to live on top of social media, making it possible for followers to complete purchases without leaving the app they are using. This keeps followers within the world of the creator while increasing purchase conversion rates.
The longevity of the creator economy hinges on advancing the monetization tools available for the long tail of creators. Snipfeed exists to see the success of this economy so that more people can enrich their lives by doing what gives them purpose.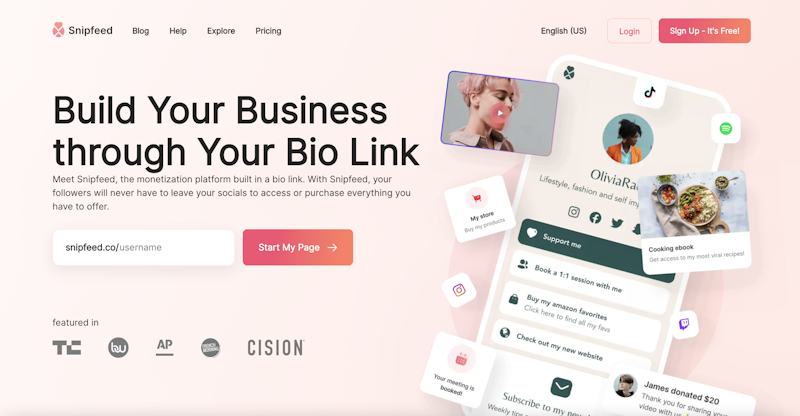 What's Next
We're excited to share that we've recently raised a $5.5M seed round with investment from Charles River Ventures; Abstract Ventures; Ali Hamed at Crossbeam; id8; Michael Ovitz, founder of CAA; Michael Bosstick, co-founder and CEO of Dear Media; management agency Up North; and European funds Isai, Diaspora and First Capital. These investments will help us continue to build new features and grow our talented team.
Snipfeed is based in Los Angeles and Paris. It was founded in 2019 by Redouane Ramdani, Anas Bouassami, and Pierre-Habté Nouvellon, three young French entrepreneurs who met while at Berkeley. The team has grown to include two talent executives with 10+ years of influencer marketing and creator expertise, as well as a marketer and creator herself who recently signed with WME.
If you're a creator looking for a simple way to monetize across all of your social channels, check out Snipfeed for yourself, and let us know what you think. If you love it, you can refer a friend and earn $20 once they sign up for Snipfeed Pro!