Here are 8 quick tips and tricks you can try out on your Instagram Reels!
Growing one's Instagram account has, in the past, been a notoriously challenging task. Without having a way for users to easily discover new creators, it's difficult for profiles to quickly blow up as creators can on TikTok. However, since Reels (very similar to TikTok) was introduced in August of 2020, and are now becoming more and more of a priority for Meta, Instagram's parent company, IG creators have the opportunity to be discovered by far more users than the Explore page has allowed. And if you're really looking to maximize your exposure and following, getting a viral Reel is key.
Reels are short, engaging Instagram videos, anywhere from 15 to 60 seconds in length. Ever since the launch of Reels, millions of users have begun using this feature to grow and evolve their Instagram presence. Let's take a look at some of the tips and tricks you can use to up your Instagram Reels game and gain a larger and more engaged following!
1. Use trending audio
In order to increase views and engagement, you'll want to use a trending audio. To find one of these audios, all you have to do is scroll through the Instagram Reels page and look at the bottom left hand corner of the screen. If you see an arrow like the one pictured below, make sure to save the audio and use it as soon as possible since it means the audio is currently trending.

Another way you can see if a sound is popular is when adding an audio to your Reel, click "See More" and you'll be able to see how many Reels are under each audio along with the audio length.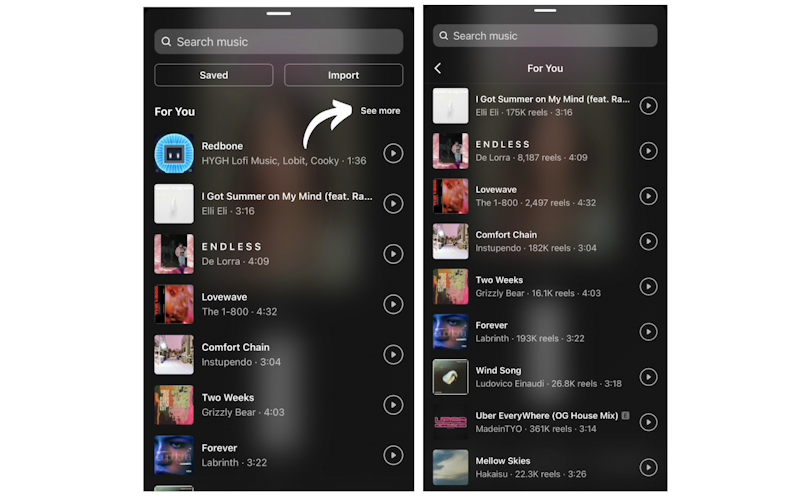 2. Share to Your Instagram Story
After posting a Reel, make sure to share it to your Instagram story! During an interview between motivational speaker, Chalene Johnson and Jon Youshaei, a former employee at Instagram, it was revealed that the views you receive when sharing your Reel as a story counts towards your total Reels views as well. Mourne Digital also includes the measurement on what counts as a view on Reels, citing that if users watch a Reel for more than 3 seconds it equals 1 official view.
3. Convert IG Highlights to Reels
Recently Instagram released a new feature where you can convert your Instagram Highlights into Reels! Although no official statement has been made from Instagram yet, this feature is already available to many users. All you have to do is go to your highlights and tap "Convert to Reel." This will automatically turn your highlight into a video and you can edit the length of the clips, choose which song you want with your Reel, then hit "Share" and you're done! This is a great way to create easy, engaging, and relevant content.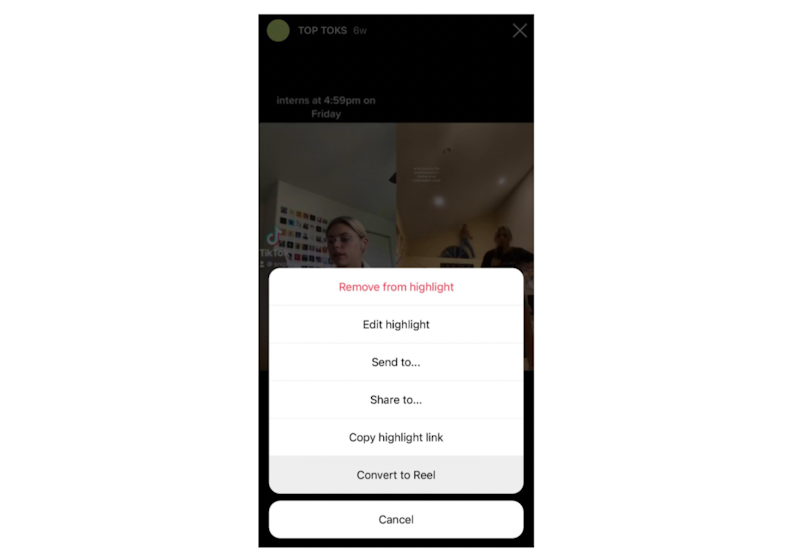 Source: @snipfeed
4. Make Reels short to increase watch time
Just like TikTok, you don't want to make your Reels too long. As mentioned, Reels can go up to 60 seconds but many creators, including travel blogger Angela Liguori, agree that making shorter Reels under 12-15 seconds can increase your watch time since viewers are more likely to watch the entirety of the video, allowing it to loop. However, if you're posting a tutorial or how-to video, using all 60 seconds is likely to be best as it allows you to explain in greater detail, show personality, and won't seem so rushed.
5. Use specific hashtags in your caption
Hashtags are essential for targeting your specific niche, making your Reels more discoverable, and gaining potential followers. Make sure the hashtags you use are specific to your content and that they cater to your target audience! By labeling your content, Instagram will know who to send it out to on the explore page. Instagram has shared that they recommend no more than 3-5 hashtags, you can read more here!
6. Post high quality, original content
Instagram prioritizes high quality, unique content on Reels– meaning no visibly recycled content from TikTok or videos from other platforms. Since TikTok is seen as a competitor, Instagram cracks down on accounts that have watermarked TikTok reposts and will mark it as low quality, making your discoverability even more difficult. According to Instagram Creators, any Reel that is blurry, has a border around it, or is covered with writing will also not be promoted. However, if you post creative, high quality and original content using Instagram's Reel features, have vertical orientation, and employ creator tools, you can definitely secure that viral moment!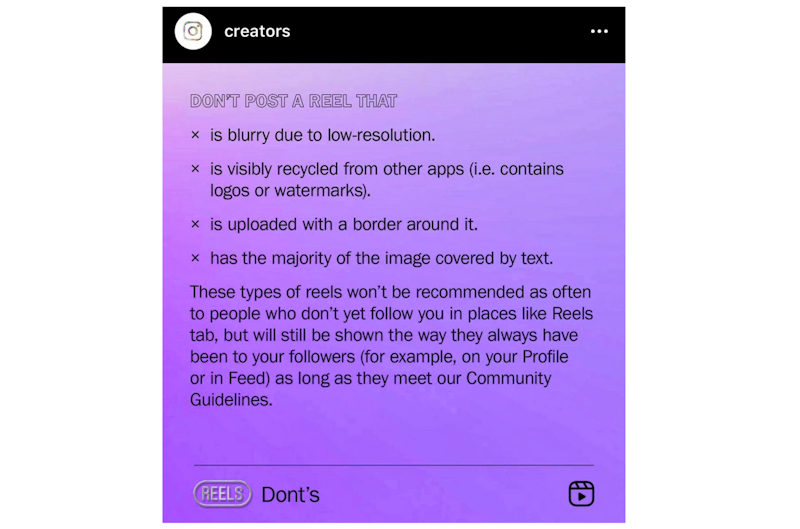 Source: @creators
7. Be thoughtful about your Reel's thumbnail image
Reels with an aesthetically pleasing or compelling thumbnail are more likely to be clicked on from your Instagram profile, leading to more traffic to the Reel. Be mindful about what image you choose as your thumbnail image, aka cover photo, or create a graphic for your Reel thumbnail using creative platforms like Picsart.
8. Snipfeed
Another way you can gain more exposure on your Reels is actually via Snipfeed! Snipfeed, as you may or may not know, is a one-stop monetization platform with a free customizable bio link that allows creators to seamlessly start and grow their businesses on top of their Instagram profile. Using a link in bio to link your Instagram Reels can help you gain discoverability and allow people from other social media platforms to check out your Instagram content and profile.