Supercharge engagement & data collection with Snipfeed's new Forms feature. Elevate experiences, gather insights, and drive growth seamlessly.
Unleash the potential of engagement, data collection, and value-driven interactions. Seamlessly integrate Forms into your strategy and elevate your audience's experience, gather insights effortlessly, and incentivize engagement for amplified growth.
Ready to get smart with your marketing efforts? In the ever-evolving landscape of online businesses, staying ahead requires not just innovation, but also effective engagement strategies. 
That's why we're thrilled to introduce an exciting new feature that will revolutionize how you interact with your audience, just one click away from your socials: Forms. 
Effortlessly design captivating forms that engage followers, gather invaluable insights, and drive opt-ins like never before. 
As we delve into this innovative tool, learn how Snipfeed's Forms feature alongside your Pro/Starter plan perks empowers you to stand out without the need of investing in other expensive marketing softwares and subscriptions. With Snipfeed, you have all the tools you need in one place.
Keep reading to learn more. 
Your all-in-one Marketing Funnels suite
The best part? The Forms feature is seamlessly integrated into your all-in-one Snipfeed subscription. 
No extra costs, no hidden charges – just pure value added to your suite of growth tools. Elevate your engagement strategies, streamline lead generation, and create stunning landing pages, all without worrying about the budget.
Check out what our Marketing Funnels suite offers VS what you could be paying for other subscriptions below.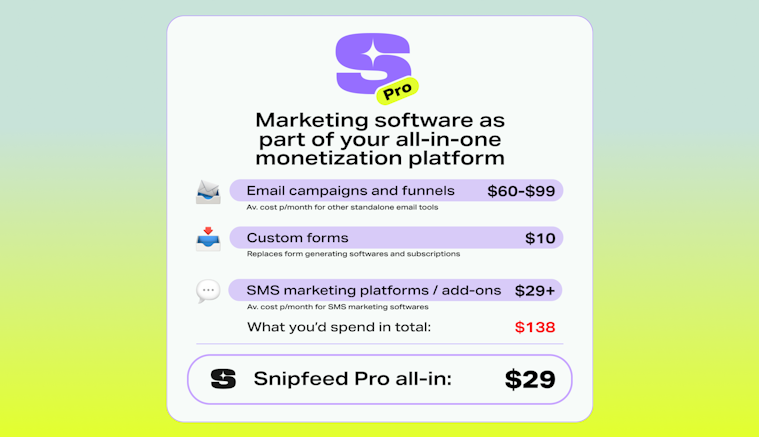 1. Grow Your Mailing List
A strong mailing list is the backbone of successful online businesses. 
Tweak the information you want to collect easily - choose from a selection of contact information and even add custom fields. This allows you to create anything from contact capture forms and research surveys to waiting lists and social media contest applications.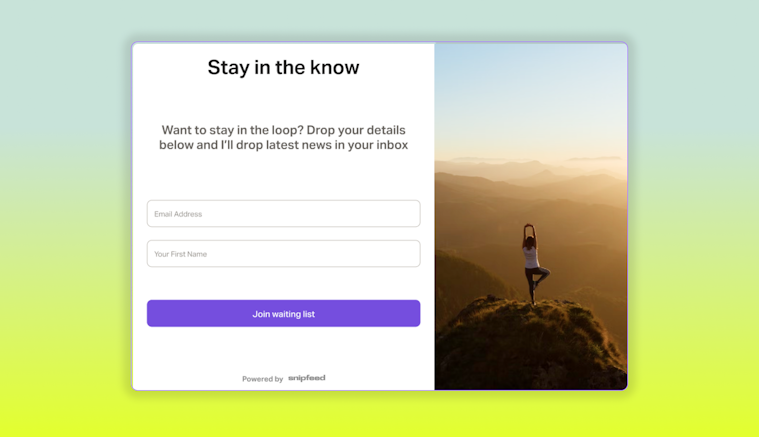 2. Engage and Convert: The Power of Incentivized Forms
Craft forms that offer real value to your audience – from e-books to exclusive content – in exchange for their email addresses. 
Key for facilitating audience growth but also nurtures a community that's genuinely interested in what you have to offer.
Snipfeed's Forms feature takes engagement to the next level by allowing you to offer free downloadable digital products as incentives, delivered right after submission.
This strategy not only builds trust and credibility but also serves as a lead generator. By showcasing your expertise and providing immediate value, you create a pathway to more sales.
Learn more about how to leverage Forms with our step-by-step guide below.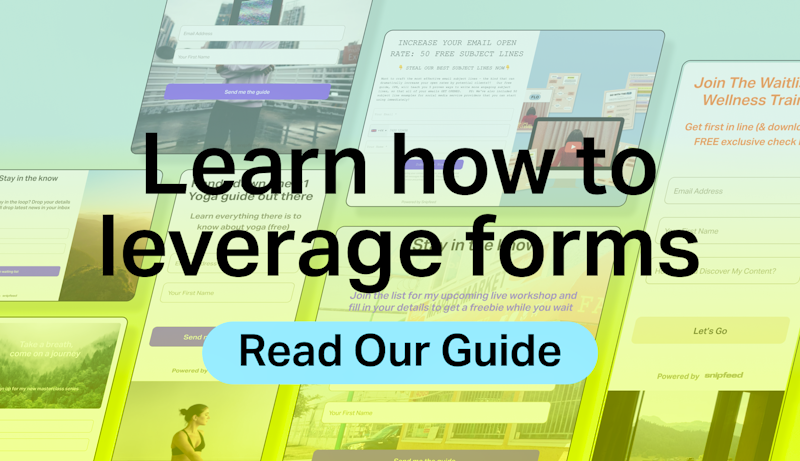 3. Create Beautiful Forms Landing Page Designs
First impressions are crucial in the digital realm. Our Forms feature empowers you to design landing pages that captivate visitors from the get-go. 
Crafted with your unique branding in mind, these pages become an extension of your business's personality, making your audience feel right at home. 
Pick from three optimized templates and tweak the colors, fonts, emoji pop ups, your submission button, tweak the transparency of your elements, and add any text and imagery you choose. Easy.
4. Store Responses and Contacts Within Snipfeed's Marketing Funnels
Unlock the potential of your marketing campaigns with the power of seamless integration. Pair the information you collect via your forms with marketing funnels to create specific audiences - allowing you to follow up with high value leads who have submitted responses to your forms.
Ready to make your mark and step your marketing strategy up a level? The future of engagement starts here – with Forms by Snipfeed.